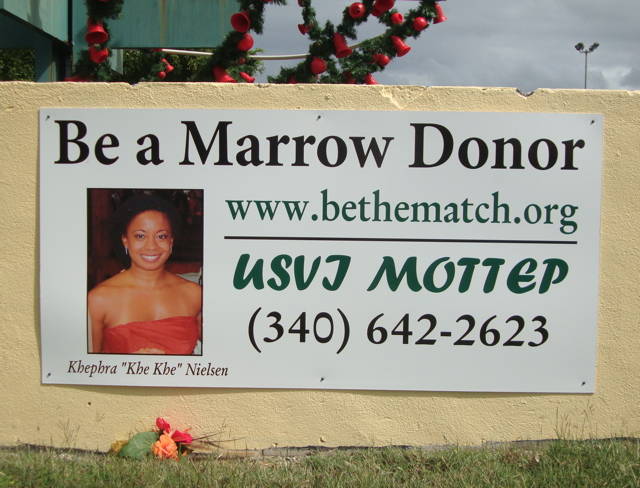 As shoppers rush around the islands to finish their holiday gift buying, they should keep their eyes open for a chance to give another gift—perhaps the biggest gift they could ever offer.
At the Sunny Isles Shopping Center in St. Croix, a new billboard was unveiled on the wall by the Christmas tree, below the center's landmark clock tower. It features the picture of a lovely young woman and the legend, "Be A Marrow Donor."
The woman on the sign is Khephra Nielsen, a St. Croix native who died a year ago of leukemia. She was the focus of a drive to find a suitable genetic match for a bone marrow transplant to save her life. A match was eventually found, but she died of the disease Nov, 7, 2009, at the age of 30.
For her family and friends, it's a pain that never goes away. But her parents said they are proud that their daughter is still out in front, leading the fight.
"It was a really exciting feeling in a sense that we feel that she'll be continuing a job we started while she was alive, to promote bone marrow registration in the territory," her father, Aloy Nielsen, said. "She's leading the charge. We feel very happy about that."
Minorities, including blacks and Hispanics, are seriously underrepresented in the bone marrow registry, said Nielsen, whose family got a hard lesson in the math of organ donation. He hopes to do something about it so that other families don't face the same heartbreak.
"The hope here is for African-Americans and Hispanics to register in the bone marrow bank," he said. "Their representation is extremely low … the chance of finding a suitable match is slim to none."
That's the situation they faced when Khephra was diagnosed. No one in the registry matched. A massive drive was held, and thousands in the territory registered and were tested. A donor was eventually found, but it was too late.
"Khephra ran out of time," said Lillian Sutherland, executive director of MOTTEP, the Minority Organ/Tissue Transplant Education Program.
"We decided it would be a shame for this to be the end of the story, when there is so much more that can be done in Kephra's name," Sutherland said. "We need to step up and take care of ourselves and be proactive instead of reacting when a person becomes sick …."
Getting people registered before there is a need just makes sense, she said.
Sutherland said the billboard is aimed both at local residents and visitors to the island who may not have considered registering as a bone marrow donor.
"We expect to have a lot of visitors to the island at this time of love and caring and sharing. We are hoping to maximize the exposure."
She added that registering to be a donor and getting tested does not commit anyone to anything, and if a person does match someone who needs a marrow transplant, he or she can decline right up to the last minute.
But being a donor is the chance to give someone a better gift than the latest electronic doohickey or gizmo. It's a chance to give someone life.
Khephra's mother, Vivian, added that MOTTEP is also promoting the preservation and use of umbilical cord blood, which has shown great potential in treating not only leukemia, but lupus and other diseases.
But cord blood collection is in its early stages, and many places – including the U.S. Virgin Islands – have no process for preserving it. That's something she said she's committed to changing.
Those interested in learning more about registering as a donor can go to www.bethematch.org, which explains how to register and answers questions about marrow donation.
Or you can call MOTTEP at 642-2632, or send Sutherland an email at usvimottep@yahoo.com. Sutherland said the group is also planning another territory-wide registration drive in February.
For Khephra's family, it's the second Christmas without their daughter. But standing at Sunny Isles Thursday as her billboard was unveiled, they felt her connection again.
"We think about our daughter all the time," Nielsen said Thursday evening "We went to her gravesite after we left (Sunny Isle) today. It's never going to go away. But we know one thing: everything that could possibly be done was done. She was in the best of hands at Sloan-Kettering [the New York hospital where she was treated]."
"Now we're definitely committed to helping MOTTEP," he said, adding, "Once you're in it, you're in there all the way, helping people is what it's all about now."