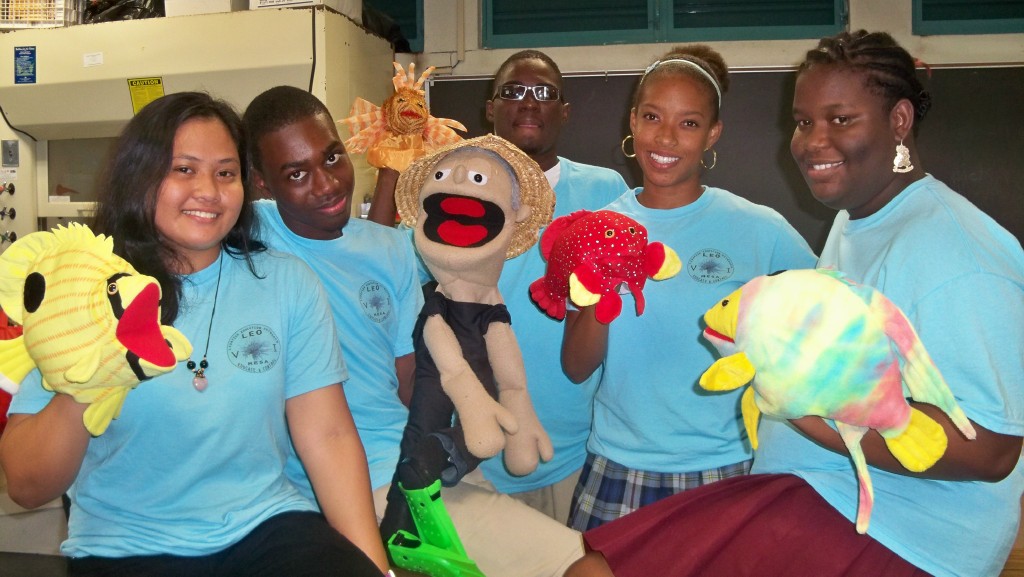 A group of concerned public high school students have researched what the invasive lionfish can do to the coral reefs and fisheries around St. Croix. What they have learned has motivated them to action.
To help slow down the invasion they have organized a Lionfish Eradication Outreach (LEO) program to inform the public on how to help control the voracious, venomous fish.
"I want to help the community and future generations by controlling the lionfish now, so they don't have to deal with it later," said John Sheen, a junior at St. Croix Educational Complex.
This past summer the students did research on such subjects as genetics and even wrote papers on the lionfish in the Mathematics and Environmental Science Academy (MESA) program.
After William Coles, from the Department of Planning and Natural Resources, explained the problem to the St. Croix Central High School and Educational Complex students last summer, the students decided to help educate the community.
"We have to start sooner than later," said Ann Marie Gibbs, subject area coordinator of MESA and science teacher at Complex. "The students are doing this and working as a team with the community so they can respond and help us manage the situation. Our economy depends on addressing this issue immediately."
The dozen students, who meet weekly, have produced more than 2,000 lion fishmarkers—made from a washer and neon plastic ribbon—and have had them distributed to dive shops.
The students will stage puppet shows beginning this week for elementary schools, youth groups, community centers and churches. The story line is how the local fish, Sam scorpion, had his cousin Leo lionfish, to visit and how mischievous Leo became in the coral reefs.
After the show, students give out age-appropriate surveys with questions concerning the frequency of the students' water sports activities and the number people they know who fish. From the survey they will write up a study that they will take to the Gulf and Caribbean Fisheries Institute.
"We are starting with young children, and through them, we hope to reach their parents and adults," said Jasmine Roberts, a senior at Central.
Field trips are included in the program, and Gibbs said they would also like to get students certified to dive.
"I can make a difference and actually have a lot of fun doing it," said Complex sophomore Jirah Famucol.
The students are also in the Coral Conservation Corps, sponsored by St. Croix Environmental Association. The corps promotes being stewards of the coral reefs through active involvement.
The LEO programs are funded by V.I. Experimental Program to Stimulate Competitive Research (EPSCor) of the University of the Virgin Islands.
Llewelyn Taylor, a junior at Complex, explained his involvement with LEO: "I do this because I want to make a difference by helping St. Croix be a better place for us and tourism."