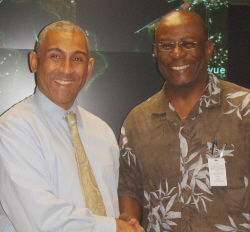 Mark Walters, director of the V.I. Territorial Emergency Management Agency (VITEMA), is leaving his post at the end of this month with mixed feelings. St. Thomas is, after all, his home.
Walters spoke this week about the past two-and-a-half years here on loan from the Federal Emergency Management Agency (FEMA), while Elton Lewis, the incoming director, discussed the challenges he faces in his new post.
"I needed someone to take over who could take us to the next level, not simply sustain what we have built," Walters says. He believes Lewis is that person.
"I've tried to talk him into it for months," Walters says. "He has the background we need. He finally accepted last month."
Lewis was V.I. National Guard director of the joint staff, prior to his new post. He and Walters have worked closely for the last two years. Lewis was also V. I. Police commissioner for four years from 2003 to 2007.
Walters says, "I knew, in spite of difficulties, that Elton got a lot done meeting challenges and issues in the Police Department."
Did Walters know what he was getting into when he accepted the local assignment? He thinks a minute.
"I did and I did not," he says. Shaking his head, he says, "It was a disorganized mess, no structure, no credibility, equipment in bad shape. The old AQ building where it was housed, was inadequate, in disrepair itself. The former director Harold Baker was long gone."
If Walters has mixed feelings about leaving, he has no such feelings about what the agency has grown into under his watch. Though modest about his own labors, Walters beams when he talks about the agency's growth and accomplishments which could not have happened, he says, without Gov. John deJongh Jr. setting the groundwork.
VITEMA is now a cabinet level agency. In July 2009, deJongh signed legislation that separated the agency from the V. I. National Guard.
What does he feel most satisfied with?
"It's hard to say," he says.
"We went through multiple projects, challenges," he says. The first of these was finding new quarters. Walters says he was fortunate in finding the current building. "We looked for a new location and found one that came on the market at just the right time." The sparkling new facility took 13 months to build out and VITEMA moved in in January 2010.
The state-of-the-art headquarters is like walking into another world. "Even FEMA personnel from New York have been impressed," Walters says. It encompasses the agency's 911 call center, manned by a team of five operators, one of four rotating teams, with an identical complement on St. Croix.
Each operator is fully certified after a 45-day intense training course, Walters says. "Each operator could get a job anywhere in the states with their training. We handle about 15,000 calls a month on each island."
The computer room that operates the Emergency Operation Center looks like it could operate NASA, complete with a wall of computers in a separate room which operate the 30 stations where personnel from different V.I. departments can be directed in an emergency situation. Any of the computers can be pulled and replaced at a moment's notice.
The center was buzzing with activity Thursday with an emergency training exercise on both islands. All first responders, sirens blaring, were racing to simulated situations, plus there was an unexpected and real emergency situation on St. Croix at the Hovensa refinery where a hydrocarbon spray sent several schoolchildren and other residents to the hospital.
Though Lewis is no stranger to emergency situations, he says of Thursday "It was a baptism by fire. The situation was curious, but the exercise was a great opportunity to observe, with respect to the planners and controllers. We are doing an after-action report now."
Lewis is busy planning his next moves. He is submitting a request to the Office of Management and Budget for release of $350,000 set aside for an engineering, architectural and environmental study on the St. Croix VITEMA building, to bring it up to speed and incorporate the 911 call center, which is presently located elsewhere.
Lewis also is looking to fill two management positions: a director of logistics and an administrator for external affairs.
Walters' last ambition is to see a tsunami warning system, with sirens placed territory-wide.
"It's expensive," he says. "We have $40,000 from the Senate; $100,000 from the Public Finance Authority; and another grant of $100,000 from Homeland Security. The sirens cost $20,000 each. WAPA director Hugo Hodge has said he will help, donating poles."
Walters says he has had no time off since taking over the post, "except for a week last month in the hospital with Dengue fever, and another week at home in New Jersey to recuperate. That's not my idea of a vacation," he laughs.
"With this job, it's 24/7, and lots of times I sleep at the facility. That's just how it is," he says with a smile. Walters takes obvious relish in his career, which he started on St. Thomas when he was hired by FEMA after Hurricane Hugo.
"And I've never worked for anyone else," he says. Walters has had a sterling career in FEMA, taking on a series of high level responsibilities. Before taking VITEMA, he was director of the Management Division for FEMA Region 11, with jurisdiction over Puerto Rico, New Jersey and New York.
He will return to New Jersey and his family, wife Susan and children Meaghan and Matthew.
"They are already in the states, because I didn't want to take the kids out of school mid-term," he says.
However, before he heads home, Walters says, "I'm taking some time to sail, snorkel and visit old friends."