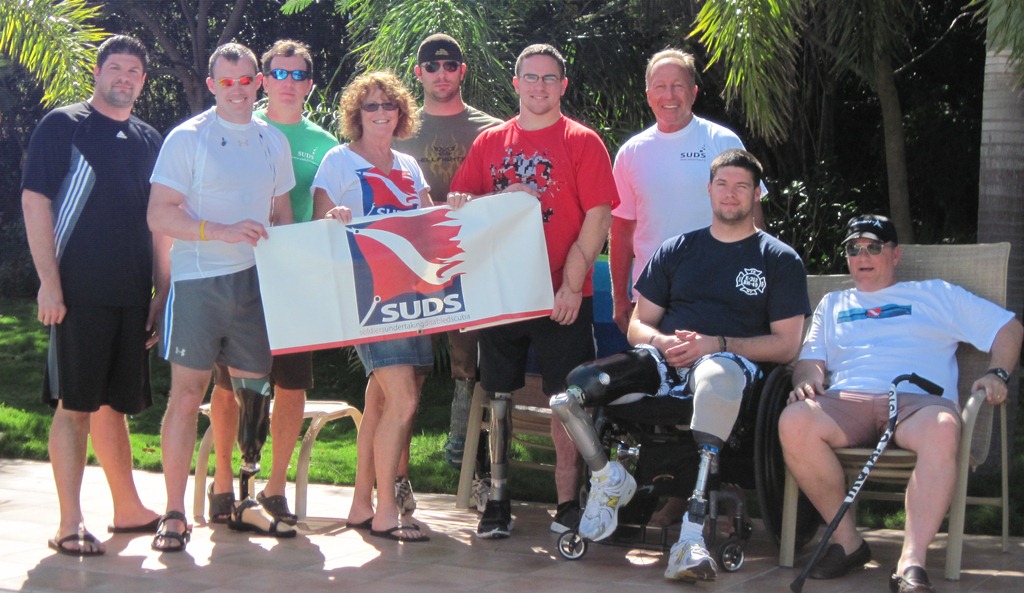 The weather was great and the diving fantastic, but what really wowed a group of six wounded veterans the most was St. John's hospitality.
The veterans spent the last week on St. John with three instructors, a physical therapist and a logistical coordinator as part of the Soldiers Undertaking Disabled Scuba (SUDS) program that teaches wounded veterans to scuba dive.
"The locals warm up to you. You don't feel like a tourist," said Chris Miller, a 46-year-old pilot in the U.S. Army.
Miller, who lives in Enterprise, Ala., added that he felt like he was part of the St. John community as soon as he stepped off the ferry.
Eric Tice, 20, of Charleston, W. Va., summed it up. "I'd like to say thank-you to everybody who supported us," he said.
Other veterans said they were also delighted at the generosity of the St. John community.
Owner Charles Atkins donated his stay at a Chocolate Hole villa, Great Expectations, Low Key Watersports facilitated their dives, and Zozo's Ristorante, Morgan's Mango and Castaways provided food.
Additionally, the Tourism Department provided dining gift certificates, Dial-A-Ride helped with transportation, and the Viggo E. Sewer American Legion Post No. 131 helped with many logistical details.
The six wounded veterans will return to Walter Reed Army Medical Center in Washington, D.C., to complete their treatment.
"Getting out of the hospital is really great. Any place you spend a long time in is kind of boring," Miller said.
Diving is a good activity for the wounded veterans because the water's buoyancy helps take the pressure off their injuries. The six did their diving certification book and pool work at Walter Reed but took their open water certification test on St. John. All passed.
Tice had his dive certification but needed to get recertified after he lost his leg while serving with the U.S. Marines.
For Shane Baldwin, 30, whose parents live in Cove, Ark., the trip was a chance to relax and learn to enjoy the water.
"Water always gave me a hard time when I was a kid," he said.
Dave Lewis, who lives in the Washington, D.C. area, is one of the SUDS instructors. A Vietnam veteran, he said that the SUDS program gives the wounded veterans a chance to get back into life.
"So many people come back and just sit. This helps them find things they can do," he said.
Carla Chatterton, who helped found the SUDS program several years ago, said to date, about 200 wounded veterans leaned to dive through the program. This is the second trip to St. John.
The program is part of Wounded Warriors/Disabled Sports USA.
For more on SUDS, visit www.sudsdiving.org.