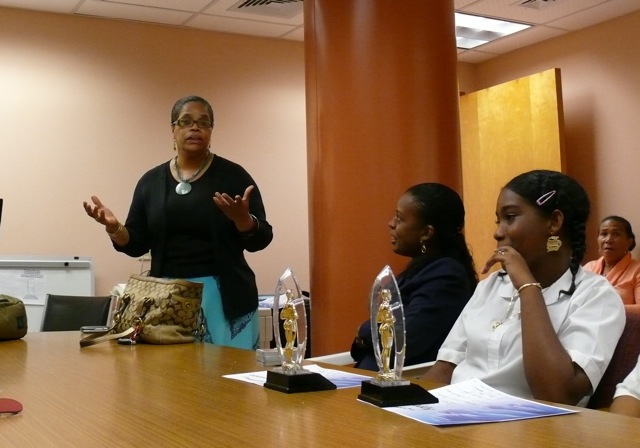 St. Croix high school students, parents and an area family touched by an alcohol-related tragedy will soon appear on V.I. television screens in two new public-service videos about underage drinking.
The two spots are currently viewable on YouTube. One, entitled "It's Our Responsibility: Talking With Your Kids About Alcohol," tackles the question from the parental perspective and features several St. Croix fathers talking about how they talk to their own children about drinking. The other, entitled "The Courage to Say No," features three area high school students talking about why they don't drink.
Both videos begin, though, with hard-hitting footage of Jackie Holt talking about the day 10 years ago she lost her son Andrew Ross, to an alcohol-related car crash on St. Croix. Ross was killed Nov. 7, 2000.
"The phone rang about 1:30," she said. "I heard somebody say they are bringing the boys in now. One's ambulatory, one on a stretcher and one DOA," said Holt in the videos. For the first hour or so, she said she did not know whether her son was alive.
While young drivers get into accidents, throwing alcohol into the mix makes matters much worse, she said. She spoke with the two survivors about what happened and said in the videos, "I can't imagine that it would have happened if they had not been drinking."
The V.I. Health Department premiered the two videos Monday evening at the Charles Harwood Medical Complex on St. Croix. They are aimed not just at young men and women and their parents, but to the community at large, said Maren Roebuck, prevention coordinator for the V.I. Department of Health's Division of Mental Health.
"We want to get the word out we do have a problem with underage drinking," said Roebuck. "And we also want to alert store owners they really should not be selling alcohol to minors, never mind that it is also against the law."
According to Roebuck, the videos came about thanks to some technical help from the U.S. Substance Abuse and Mental Health Services Administration (SAMHSA), which is encouraging every state and territory to produce its own video on underage drinking. In March, SAMSHA approached the V.I. Health Department.
"At SAMHSA they were concerned about underage drinking and asked if we were interested in making a video," Roebuck said, adding the agency offered to provide both funding and technical assistance.
There will be another video and several other anti-drinking projects involving youth, according to Annette Scott, a Health Department official who worked with Roebuck on the videos.
The Law Enforcement Planning Commission is funding an anti-drinking poster contest in the schools and a roadside billboard.
Roebuck is also teaching a class where the students will put together their own message in comic book form, and there are plans to put together yet another video, this time written, directed and produced by the students themselves, Scott said. `
The two videos on underage drinking should start showing on local TV by mid-December and run through the end of January, said Roebuck. They are hoping to get it onto several networks, from public television to Channel 2, as well as the government's channel, she said.
"We want it to run as often as possible," she said, "because this is a message the community needs to see."