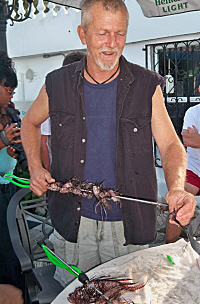 Have the lionfish won or are local activists concerned with protecting marine life in the U.S. Virgin Islands just setting more realistic goals?
In April 2009, William Coles of the the V.I. Division of Fish and Wildlife was talking about nine lionfish caught in St. Croix and just a couple unconfirmed sightings on St. Thomas. He spoke of eradication, and a few months later, because of efforts of local divers, was hopeful because only a few mature lionfish had been captured.
But the story told Saturday afternoon, with at least five dozen of the Indo-Pacific ocean natives caught that day and on display on the Christiansted boardwalk, was a new one. Could this invasive species, with its voracious appetite and rapid population growth, be controlled at all?
Paul Keith was one of the first of 13 divers to bring in his catch in the second Lionfish Derby sponsored by local dive shops. His catch alone was about 40 fish. He caught his off the west end of St. Croix, and that appears to be where the largest concentration of the fish are, but they are being caught in all areas around St. Croix. He said, "If we don't do this, we all lose."
Marine researchers with the National Oceanic and Atmospheric Association have said the lionfish has the potential to become the most disastrous marine invasion in history, drastically reducing the abundance of coral reef fishes and leaving behind a devastated ecosystem.
Keith said he believed that if the population of the non-native fish reached over 25 per hectare the native reef population might be destroyed.
Cole once was promoting a program where divers who spotted a lionfish were asked to mark that area so divers could go back and catch the fish. Now that program has been discarded. "We now want to limit the population to less than 15 fish per hectare," Coles said.
One of the aims of the Lionfish Derby was to educate people about the dangers of a reef world where this fish with poisonous spines runs amok. It seemed to be accomplishing that as small crowds gathered around the table in front of the Brew Pub as divers brought in their catches.
Lionfish have few predators in the Caribbean. According to NOAA, large groupers and sharks have been known to eat them, but grouper has been overfished and are few and far between. The lionfish is so successful a predator in the Caribbean because native Caribbean fish don't recognize the lionfish as a predator.
Keith was also asked why are they not caught and eaten. He answered that they can be eaten and are actually tasty. First, the poisonous spines needed to be cut off with scissors.
A couple of youngsters were attracted to the table to look at the fish with their unusual stripes and spines. They were warned by Keith and Coles not to get close and not to touch the fish.
As strong as the local divers effort has been to fight the invasion, the numbers may be against them. It is estimated that mature female lionfish can lay 30,000 eggs into the ocean in a cycle, and the cycle can be repeated every four days.
Most reef sharks refuse to eat them because of their 13 poisonous dorsal spines. If that wasn't bad enough, the fish has two more spines on its stomach and three in its anal area.
Anyone seeing one in the Virgin Islands is requested to call Fish and Wildlife at 643-0800. The fish generally stay in one territory, so they can be captured and removed.