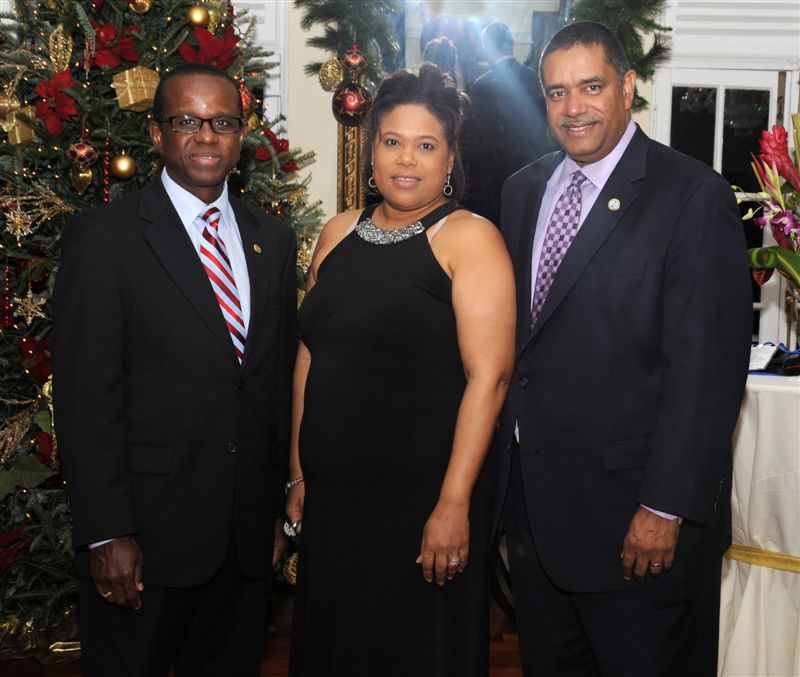 On Friday, Dec. 3, Governor John P. de Jongh Jr. welcomed 15 chapter presidents from the Caribbean Tourism Organization (CTO) at a reception at Government House, St. Thomas. The CTO representatives were in the territory this week for their annual board meeting, as well as for other scheduled meetings, seminars, hotel site inspections and sightseeing. Chapter presidents hold their annual board meeting on a different Caribbean island-nation each year to develop programs that promote the region and to learn more about the various destinations.
"Tourism is our mainstay; it is what we thrive on as an economy, and it is a critically important industry sector that we continue to market and enhance through brand quality. Through the efforts of the Caribbean Tourism Organization, in cooperation with the V.I. Department of Tourism and Commissioner Beverly Nicholson Doty as well as other private sector partners, we continue to highlight the Virgin Islands and the greater Caribbean region as one of the premier destinations in the world," Gov. de Jongh said.
The governor also expressed his appreciation "for all that you do to continue to promote the area, ultimately enabling additional job creation, small business opportunities and other economic development efforts. Tourism is our lifeblood."
During the reception, the Secretary General of the CTO delivered a traditional "vote of thanks" to the governor for "the gracious hospitality and for always being there to help the region" and to the chapter presidents for their commitment to superior destination management throughout the Caribbean. "We recognize the importance you play in the livelihood of the Caribbean and acknowledge your efforts."
Hadassah Ward, director of Tourism for the British Virgin Islands, also delivered remarks, noting the present challenges in the tourism industry given the current economy.
As part of the evening's reception, the CTO chapter presidents presented a check to Catholic Charities to assist the V.I. charity with its ongoing projects. Executive Director Michael Aiken accepted the check on behalf of the local organization. The mission of Catholic Charities of the VI (CCVI) is to reduce poverty, strengthen families and empower communities.
The CTO's
main objective is the development of

sustainable tourism

for the economic and social benefit of all

Caribbean

people through public/private partnerships. In so doing, the organization seeks to increase the demand and purchase of travel to the Caribbean.
With headquarters in Barbados, it comprises 32 member

countries

, including

English

,

French

,

Spanish

and

Dutch

countries and territories, as well as private sector allied members. CTO chapters are located in France,

Germany

,

Holland

, across the United States and throughout the

Caribbean

.