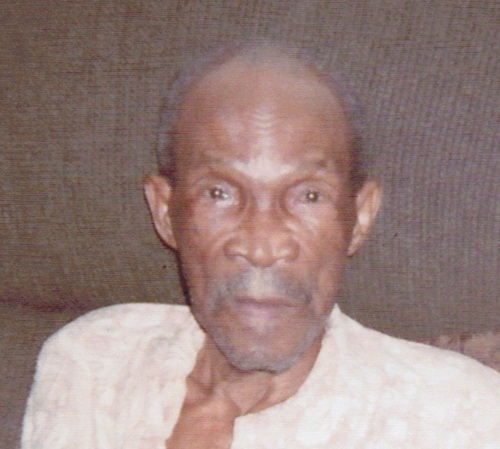 Joseph Laurencin of Mt. Pleasant died on Nov. 26, at his residence. He was 92 years old.
He is survived by his wife, Catherine Laurencin; sons: Williamsion Lynch, Prisca Lynch, Francis A. Laurencin, Linus Laurencin, Michael Laurencin, Augustus Laurencin and Marcellus Laurencin; daughters: Leah Deterville, Helen St. Rose, Gloria Laurencin, Rumina Laurencin and Atacha P. Laurencin; and grandchildren: Felecha Deterville, Albert St. Rose, Gregory St. Rose, Beverly Donelly Xavier, Gilbert Donelly, Robert St. Rose, Diana Francois, Nimphia St. Rose, Adrian St. Rose, Silvia Lynch, Marcia Lynch, Glen Lynch, Natalie Lynch, Lisa Felix-Bropleh, Kimry Felix, Dion Roberts, Danover Sealy, Udra Malcom, Kimberely Felix, Kasha Toby, Finnel Edwards, Emron, Ryan Regis, Ashel Henry, Augustus Laurencin Jr., Yasmin Laurencin and Catherine Heywood.
He is also survived by nieces: Ucilia Daniel, Agatha Daniel, Mary Daniel, Jane Daniel, Fredericka Henry and Agnes Annervile; nephews: Kadet Henry, George Henry, Nelton Henry, Frederick Henry, Ferdinand Henry, Fimba Sylvien, John Daniel, Forgus Daniel, Clive Clitus Freeman and Linton Daniel; sisters-in-law: Petrona Jn Charles, Rose Jn Charles, Shiela Edwin, Mariana Edwin, Thecla Bailey and Macdalyn Edwin; brothers-in-law: Philbert Leon, McDonald Edwin, Nicholas Edwin, Benedit Edwin and Peter Edwin; daughters-in-law: Mary Laurencin, Julie George and Sylvia Laurencin; close friends: Mr. Hunt, Gilbert Donelly, Mr. Rosmand and family, Luz James and family, Ruthline Frederick and family, Bernadine Bailey and family, Mary Mondeze, Dylan Smith and family and the Tropical Nissan staff; as well as other relatives and friends too numerous to mention.
A viewing will take place at 9:30 a.m. followed by a funeral service at 10:30 a.m. on Tuesday, Dec. 7, at St. Ann's Catholic Church. Interment will be at Kingshill Cemetery.
All arrangements are by James Memorial Funeral Home Inc.