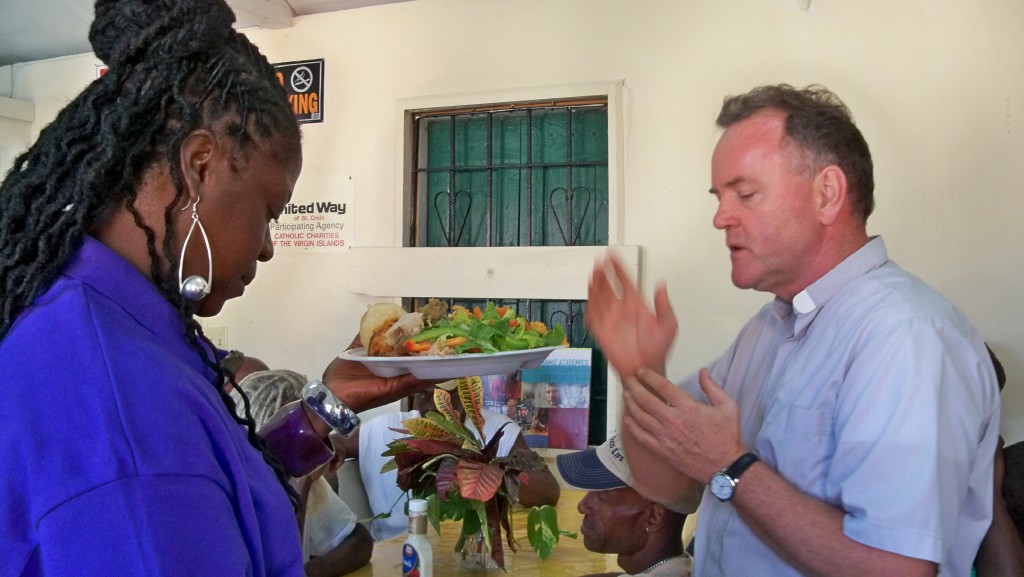 The aroma of turkey wafted into the Christiansted air a bit before noon as employees swung open the dark green wood shutters and door of the Catholic Charities soup kitchen.
Tuesday was the annual Thanksgiving luncheon at the facility located off King St. The guest list was made up of the hungry and less fortunate men and women of Christiansted.
The invitations for the luncheon went out through radio, fliers, the missions, and word of mouth on the street. The kitchen was open and serving meals to anyone in need.
The small dining room filled quickly with around a dozen at a time signing in and seating themselves then waiting patiently for the blessing of the food before being served.
Father Andrew Szorc, of Holy Cross Catholic Church, said the blessing and the folks in the kitchen got busy and proceeded to fill the plates and bellies of 72 people. Around 40 more shut-ins had meals delivered Wednesday in the charities outreach program. Brenda Charles, kitchen manager for the soup kitchen, said they usually serve around 45 meals each day.
"It is a big, big day for us," Charles said. "We prepared for a big crowd today, everybody comes out for this meal."
The tables looked festive, decked out with vases of red, green and yellow variegated croton leaves on oilcloth table coverings.
The Styrofoam plates were overflowing with turkey, ham, stuffing, macaroni and cheese, rice and beans, rolls, tossed salad, pound cake and fruit punch, and all traditional fare for Crucians.
"I have no place or money to prepare a good meal," Lenore Lawrence said, with the sound of joy in her voice. "I thank God and Catholic Charities for this meal."
Volunteers had on T-shirts with the organization's motto, "Providing Help and Creating Hope," across the back. They had eight volunteers helping out around the dining room and tiny kitchen.
"This is beautiful; I am blessed and highly favored," said a lady who wished to be anonymous. "Catholic Charities is a godsend."
Charles said Catholic Charities of the Virgin Islands is always happy to serve their clients all year, not just holidays.
"It is always a pleasure to serve the less fortunate in our community," she said.