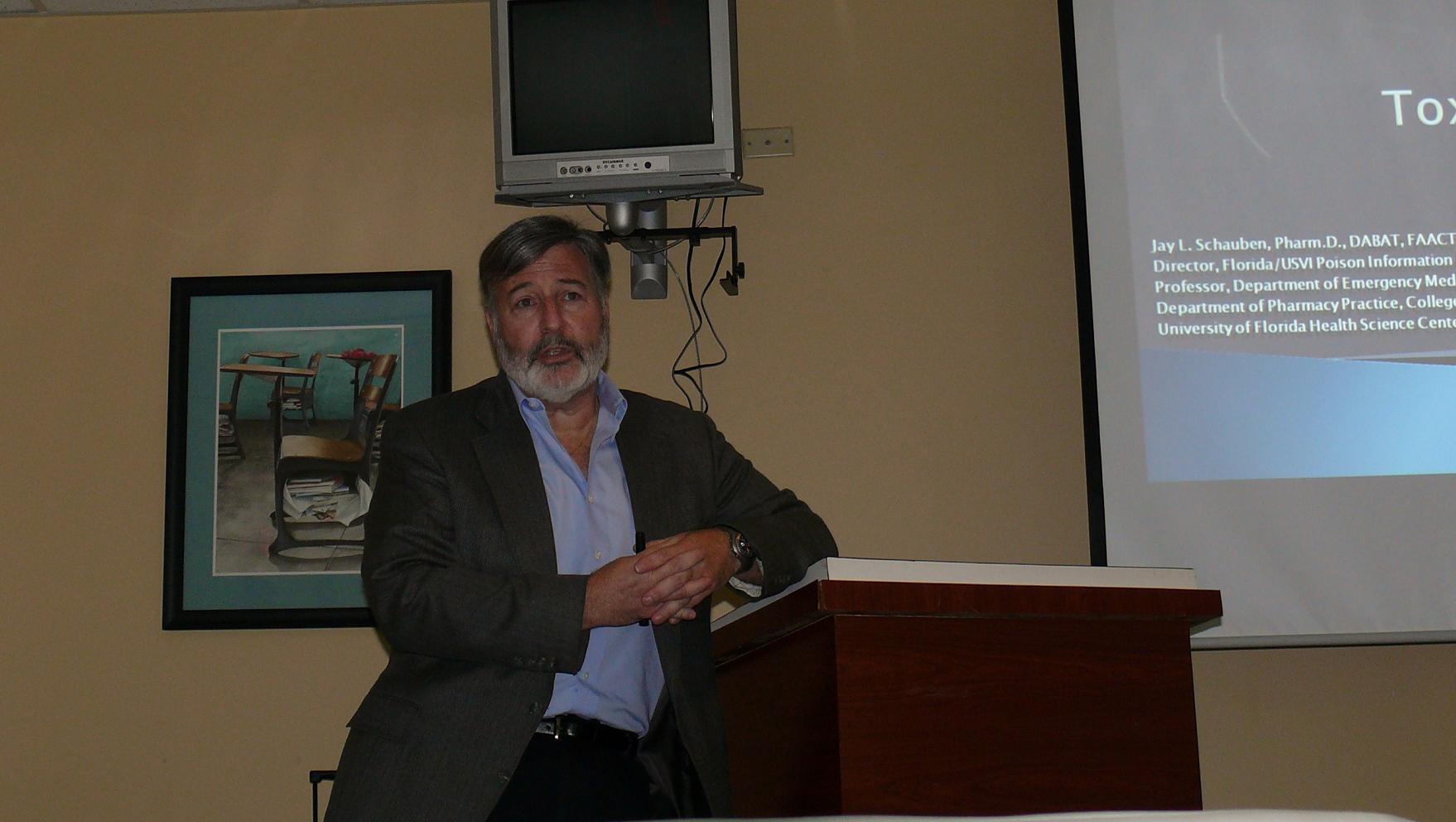 When pondering life-threatening dangers from a house fire, cyanide poisoning may not pop immediately to mind—but it should.
That's according to Florida/USVI Poison Information Center Director Dr. Jay Schauben, who spoke Thursday in a free lecture on inhaled toxins and chemical warfare agents at Gov. Juan F. Luis Hospital.
Schauben, the center's director in Jacksonville, and registered nurse Vicki Coppen, who serves as education coordinator for the center, came to the territory this week as part of the Poison Information Center educational outreach efforts.
They spoke Wednesday at Schneider Regional Medical Center and met with Health officials to talk about the role of the nation's poison control centers within health community.
Schauben described an array of inhaled poisons, their symptoms, types of test results to expect and treatment options. Much of the discussion was somewhat technical, aimed at providing practical advice for medical professionals who already have extensive training and routinely carry out a panoply of tests and procedures. Some was surprising to lay ears.
"Smoke inhalation is the most common route for cyanide exposure in our country," said Schauben. There are about 4,000 fire-related deaths and more than 20,000 smoke-inhalation injuries in the United States annually, he said.
Carbon monoxide poisoning is blamed for many of those deaths, but often it is a combination of both carbon monoxide and cyanide that causes death, he said, showing information on exposure to both poisons from major lethal fires over the past few decades.
People and medical professionals are fairly aware of the dangers and symptoms of carbon monoxide poisoning from smoke inhalation, but not as much for cyanide, he said. This is in part because in the past there was no good emergency treatment for the cyanide exposure combined with carbon monoxide, so doctors focused treatment on carbon monoxide alone, he said.
"We are trying to get EMTs and physicians to recognize that cyanide is just as much of a killer in smoke inhalation cases as carbon monoxide," he said. "And that there is a new antidote for cyanide. Before there was a problem with using the old antidote in fires, because it could not be used with patients who also had carbon monoxide."
The lectures served to give the territory's health care providers tools to save lives and money. But Schauben said they had a second purpose, too: to help get out the word on the services offered by the Poison Information Center and encourage both patients and doctors to call their hotline for expert technical assistance more often.
Since 2000, the American Association of Poison Control Centers and the U.S. Centers for Disease Control and Prevention have been working to create a complete nationwide poison control center system, Schauben said.
Federal funding for educational outreach to the territory began in 2003, he said.
The goal is to be able to call the same number from anywhere and be hooked up with a center that is coordinated with your local emergency medical system.
Anyone who calls the poison control number (1-800-222-1222) will be connected with an operator in Jacksonville, who will provide free, anonymous assistance. If the situation is urgent, the poison control center will alert either the St. Croix or the St. Thomas Emergency Medical Service to send out an ambulance. In the vast majority of cases, however, the poison experts can determine whether a hospital visit is unnecessary.
Giving poison victims the knowledge about their condition and whether they require a hospital visit saves them time, stress and money—both private and public.
"Every dollar you spend on a poison center, you save $7 in medical costs," said Schauben.
Calls to the center have increased 165 percent since 2004, when funding kicked in, he said.
"But the Virgin Islands still has relatively low penetration," he said. "We usually expect about seven to 10 calls a year per thousand residents, and we're only getting about 1.5, so it is a little on the low side. But it takes awhile to build up confidence."
The center also tracks volume and type of call, alerting the CDC, the V.I. Health Department and other appropriate bodies if a suspicious pattern emerges. An epidemic or some form of public contamination, including a terrorist action, could trigger that response.
Residents with questions about poisonings or for poisoning emergencies, can call the Poison Control Center at 1-800-222-1222 or visit www.fpicjax.org.