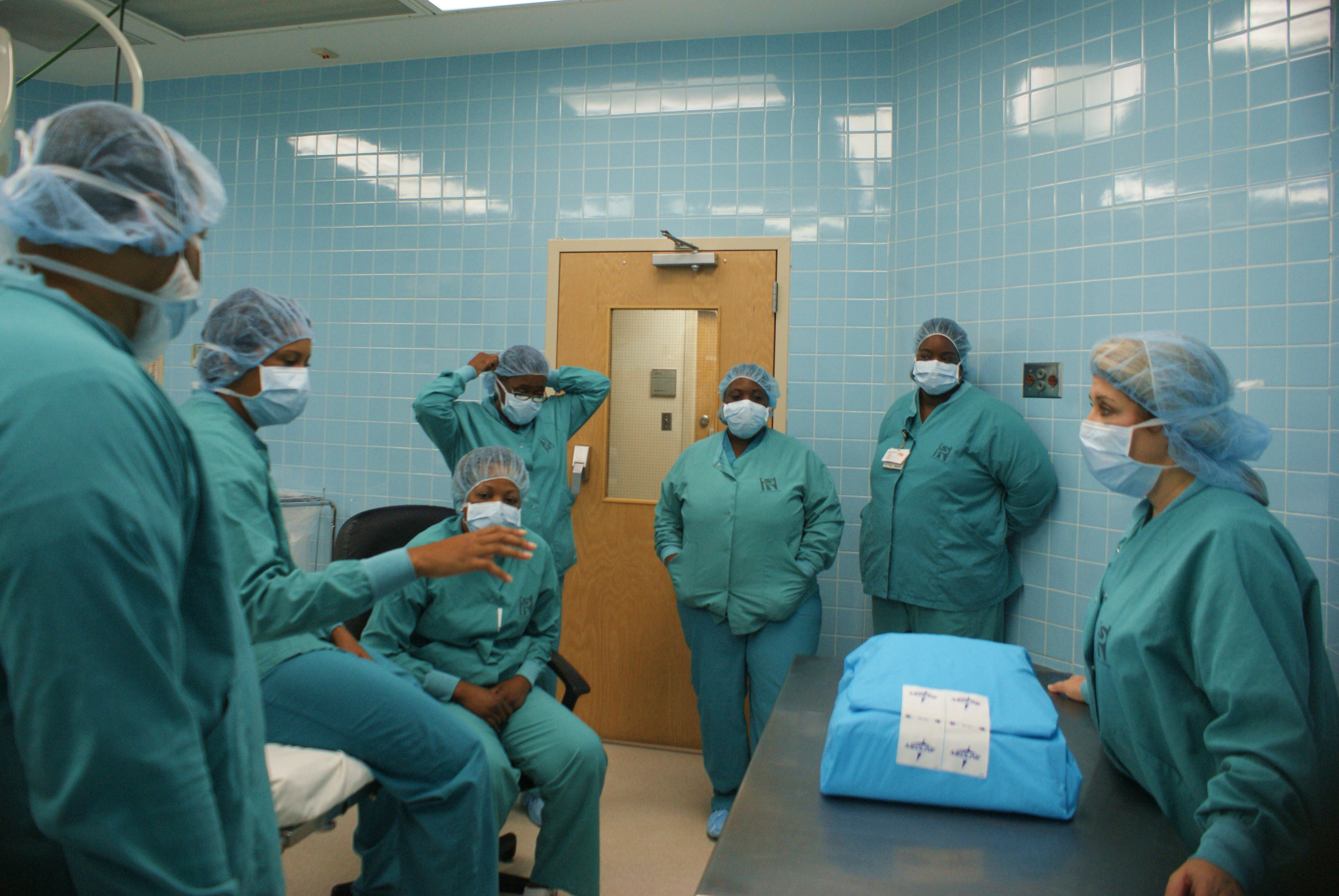 Seven young students have been poring over the books at Schneider Regional Medical Center (SRMC) for the last six weeks in an effort to provide measurably better outcomes for their patients and themselves.
When they finish four weeks from now, these surgical technician students will be positioned to replace traveling personnel in the SRMC operating rooms.
"Doctors like to work with people they know," teacher Terry Schmidt said during a recent classroom interview at the hospital, where Schmidt, director of education at Florida's Keiser Career College, was teaching the first surgical technicians course ever to be taught on St. Thomas.
The role played by surgical techs is crucial. Their primary duties – and there are several of them – assure sterility in the operating room. With medical mistakes being the third cause of nonaccidental death in America, the service these health professionals supply in terms of instrument counts, and assisting doctors and nurses with contamination protection can make all the difference to the results of both invasive and noninvasive surgeries.
Students Nerissa Gabriel, Braenna Hellman, Deenica LaPlace, Mary Pringle, Murie Rabsatt, Charles Stevens and Annie Thomas spent the first few weeks in class learning anatomy, physiology and medical terminology before they could even begin to learn the specific skills that will be required to do their new jobs.
"It's a great group," said Dr. Frank Odlum, chief of surgery at SRMC in a phone interview. Odlum said it was hard to narrow down the applicants for the program because there were so many qualified people.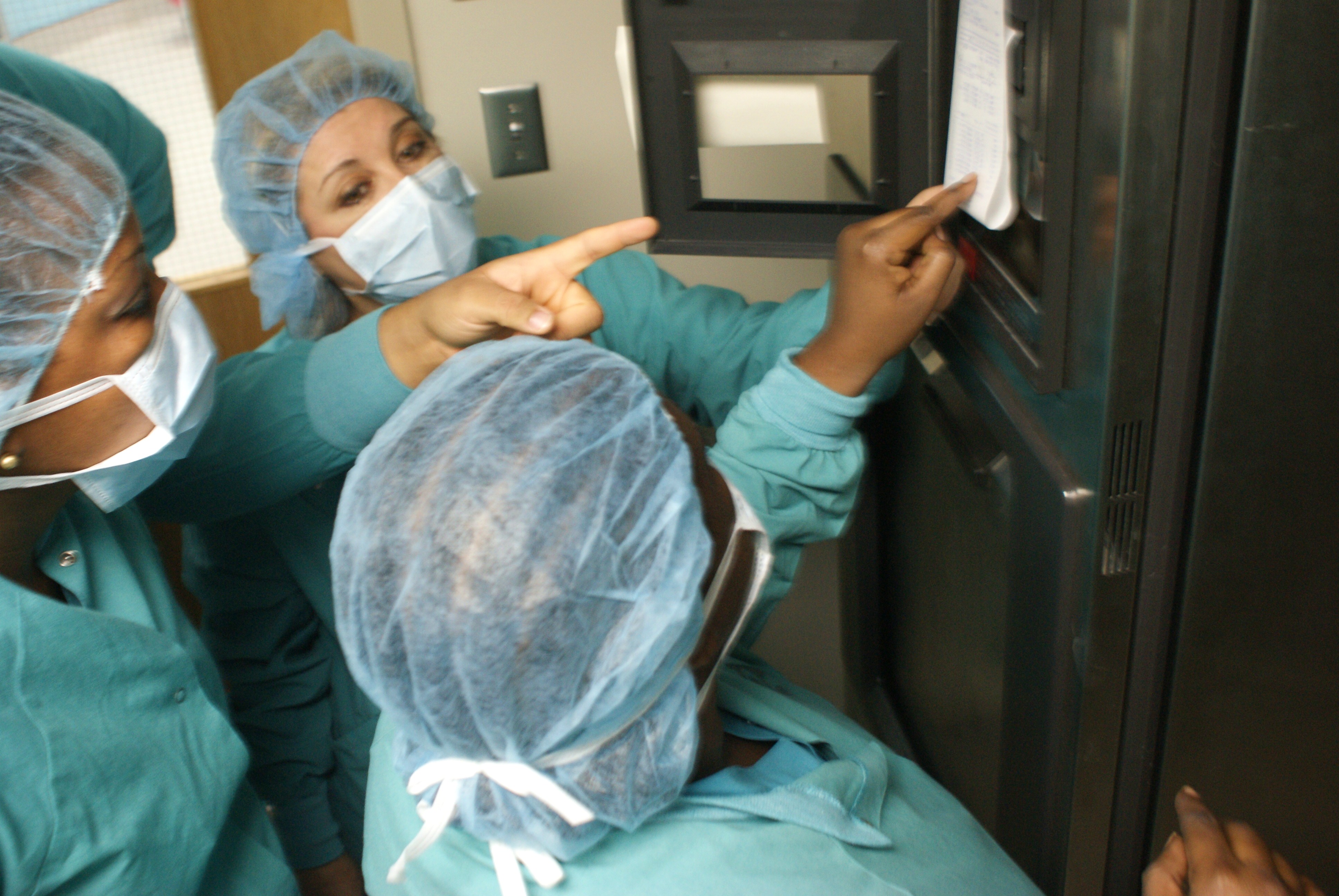 Along with assisting the doctors and nurses entering the OR (i.e., operating room), surgical techs are also tasked with preparing operating rooms so that they are sterile, which lowers the risk of infection to patients.
Since they will be in the OR during all procedures, the techs have to have the stomach for watching both simple and complicated surgeries.
All seven grinned broadly and nodded their heads when asked if they were ready for that.
Some have already been on the scene observing surgeries of both types: laparoscopic and invasive. They were unfazed.
"I already sense the comfort they are starting to feel," Odlum confirmed.
Most of the seven have been in the medical field for awhile. Hellman's mother is a physician, and Hellman was on the pre-med track in her undergraduate studies. "I wanted to be in the OR to see if I want to be a surgeon."
But LaPlace was a graphic designer in her previous life. Three months ago while giving birth at SRMC, she saw a sign on the hospital bulletin board about the classes and decided to go for it.
She also has a 3-year-old at home with the 3-month-old.
"It was so funny," Odlum said. "There she was in labor asking her husband to bring her laptop so she could take down the information." But each of the soon-to-be surgical techs, Odlum said, has his or her own story.
And all of the seven are definitely dedicated. Despite the recent torrential rains, not one missed a day of school, including Thomas, who travels from St. John for the classes.
The team—which has taken on the motto, "no man left behind"—has stuck together to get through the grueling study schedule that will move them along a career path that will see increased responsibilities.
"Education is powerful," said Schmidt, who usually teaches registered nurses.
She added that ultimately her work, along with the dedication of the students, will raise the standard of care at SRMC.
"I've had great travelers and still do," Odlum said. "But it's tough when every few months they leave. You have to start all over again with new personalities."
Odlum credits SRMC's recently arrived chief executive officer Alice Taylor for the forward motion.
"It was something that was needed here for a long time," he said.
When the need was expressed to Taylor, she took action immediately, Odlum said. "I can't thank her enough for making it happen."