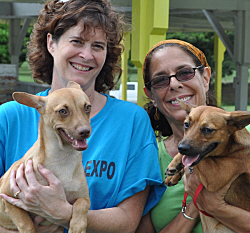 The prospect of cash prizes and an opportunity to do some research about animals brought several children together for St. Croix's first Animal Care Exposition. On Saturday, the Department of Agriculture grounds flourished with excited children and proud parents ready to display their artful works.
Learning Networks Foundation (LWF) partnered with the Animal Welfare Center (AWC) to create the expo, where children, grades K-8, were given an opportunity to design research projects related to animals that live on or around St. Croix. The projects were divided into three divisions by grade: K-2, 3-5, and 6-8. First, second, and third-place winners were awarded cash prizes of $100, $50, $25 respectively.
Children enjoyed the fun-filled day with a number of free events including a puppet show and climbing wall. The climbing wall was the most popular, and some children scurried up more than five times. Stephen O'Dea brought St. Croix's favorite donkey, Eeyore, who always seems to provide children with laughs.
Program coordinator Wanda Banks of LWF hoped to get more involvement from the community, but was still pleased with the turnout.
"We mostly did this to promote the importance of kindness and awareness of animals, and this gave us the opportunity to do that," she said.
Gretchen Sherrill, shelter coordinator of the AWC, said that the Expo not only gave the shelter the opportunity to try and get some pets adopted, but it was a chance to do educational outreach to the community, one of several ways that the AWC informs individuals about humane treatment of animals.
"We have an overpopulation of animals at the shelter, and this is one of several means to get people involved, to stop that from happening," she said.
The day ended with a small award ceremony where the children were able to collect trophies and checks for their research projects.
Award winners:
K-2 Division – All from St. Croix Montessori
1st Place –Makari Matthew
2nd Place – Zack Bozzo and Jared Doran
3rd Place – Yahn Velazquez
3-5 Division
1st Place – Sheela Rikhye, Gabby Gomez and Sophia Alvarado – Good Hope School 4-H
2nd Place – Alexis Matarangas-King –St. Croix Montessori
3rd Place – Allanise Johannes –Juanita Gardine
6-8 Division
1st Place –Akilah Hodge, Juan Aponte, Raquan Carter, Javan Menzies –Juanita Gardine
2nd Place – Shamicka Delerme and Johanna Manon –Juanita Gardine
3rd Place – Jadheem Donovan and Kevin Gilbert – Juanita Gardine