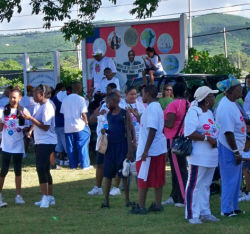 The purpose of the annual Family Walk is to get people out to walk and talk. On Saturday it served its purpose with over 600 people out walking and socializing for a few hours.
"This walk is symbolic of people coming together in a simple, healthy way of life," said Lillian Sutherland, site director for USVI Minority Organ Tissue Transplant Education Program (MOTTEP). "This is about enjoying each other and fostering a relationship."
October is Family Month in the territory and to celebrate, MOTTEP and the Department of Human Services hosted the walk.
The walk, in its eighth year, started on the nose at 6 a.m. at Plaza Extra West and proceeded five miles along Queen Mary Highway to the Midre Almeric Cummings Recreation and Youth Facility across the street from Fort Frederik. Participants could join anywhere along the route. Electronics are not allowed to be used on the walk and they discourage racing. There was a brief drizzle shortly after 7 a.m. that kept the walkers cool and kept some from joining the walk.
At the park they were treated to whole wheat titi bread, saltfish, fruit, a tiny cinnamon bun and juice served and prepared by the culinary arts students from St. Croix Career and Technical Education Center. Chef Anton Doos, CTEC teacher, said the students will get Community Service hours for volunteering Saturday.
Women from the Twin City Lion's Club validated around 200 community service certificates for students who walked.
Nicole Flemming said it was a great way to actually get a chance to talk to her daughter N'dea Flemming. She added it was a great community event giving people a chance to see friends and talk .
Second-time walker Laverne Marsh-Cole said "Actually my kids wanted to come out and do the walk again. They have fun."
The second annual "Recycle Waste – Recycle Organs" fashion show was staged to bring about awareness of MOTTEP and organ donation. Complimentary bus service took folks back to Plaza to get their vehicles.
Human Services Commissioner Chris Finch said doing events like the walk in a block of other events during October puts real emphasis on the family.
"It is wonderful to see so many participants and volunteers," Finch said. He said the walk has been getting bigger every year.
"A healthy family is important," Finch said. He suggested families spend time together and parents should let their children know they are loved and how important they are. "And pay attention to education," he added. Finch also did the walk that the DHS has helped sponsor for the last two years.
Registered walkers were entered in drawings for $100 gift certificates from Plaza Extra West, lodging at Divi Carina Bay Beach Resort, the Caravelle Hotel and more.
"This is the way a community should come together to create what our home should be like," Sutherland said.