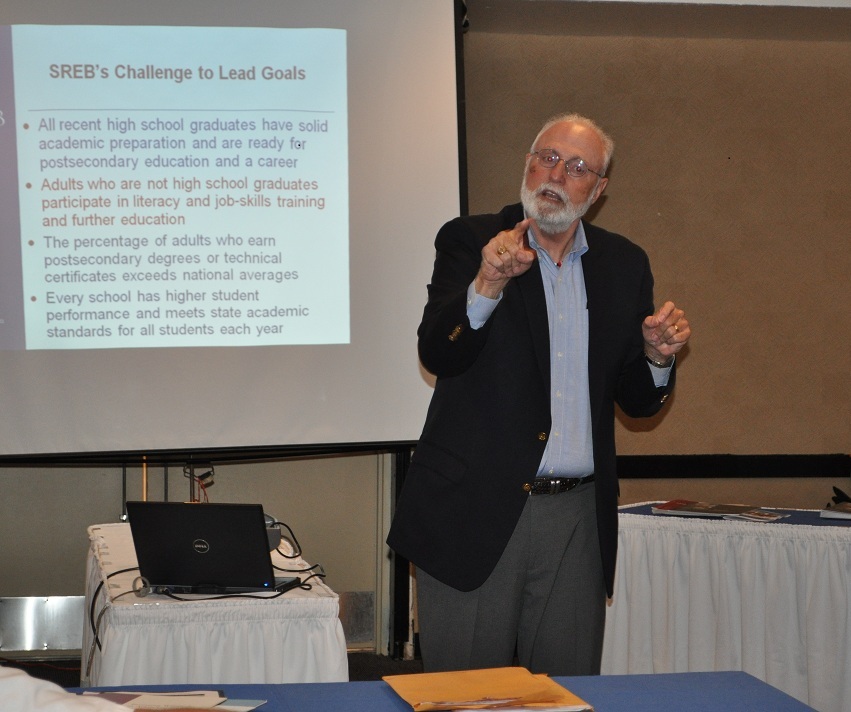 Two weeks ago, St. Thomas resident Valentine Clairmont found himself unemployed and undereducated. Tuesday, for the first time in his life, he wore a suit so that he could attend the Adult Education Summit at the Divi Carina Bay Resort this Tuesday and Wednesday in St. Croix.
Adults like Clairmont are the main reason that the Education Summit, hosted by the Department of Education, was convened: to promote educational and career development for those adults most in need of training from post-secondary career and technical education programs. The two-day seminar was comprised of government leaders, educators, public- and private-sector business members, as well as community members.
Tuesday's speakers seemed to focus on how the community can build bridges and create pathways for education. For example, UVI President David Hall provided insight on the school's goal to provide collaborative bridges for post-secondary opportunities and training for V.I. adults; while keynote speaker Devin A. Robinson spoke about his transition from being a troubled V.I. teen to becoming a successful professor at Oglethorpe University.
Adults from the community were also given the opportunity to speak about their difficulties in getting an education, which ranged from child care, transportation, lack of affordable housing, financing and illiteracy. It was also learned that those adults who can't read or write seem so embarrassed that they often don't come forward to get help.
Monique Faulkner, program manager of the Department of Education, was proactive in tackling this kind of stigma. She had a petition signed to form a collaborative team that would result in a task-force commitment to form bridges between various key entities. Some key members who committed were Human Services Commissioner Christopher E. Finch, Labor Commissioner Albert Bryan, Jr., Hall and Robinson.
"We are giving the adult educators opportunities for professional development and also are targeting members in low-income families to take advantage of these educational opportunities that are being afforded to them," said Faulkner.
Wednesday included breakout sessions, which allowed speakers to launch into discussions of how best to affect change in the adult community.
Ronald Harrigan, retired associate professor of Education and vice president for UVI Student Affairs, gave a comprehensive history of the development of Adult Education in the territory. Georgina Gutiérez, manager of Strategic Initiatives with the National Center for Arts and Technology, followed with an overview of how the Manchester Bidwell Model for education might help adult learning at the Career, Technical & Adult Education Center.
The Manchester Bidwell Model promotes success because it puts the importance on environment. "Environment shapes behavior; if you put people in a word-class facility, they will become world-class citizens," Gutiérez said.
Adult literacy seemed to be the hottest topic of the day. Bruce Chaloux, director of Student Access Programs and Services at the Southern Regional Education Board (SREB), gave an in-depth briefing about how SREB can create successful literacy programs and used innovative ways to engage the adult learner.
While Mary Ann Corley, director of the Teaching Excellence in Adult Literacy (TEAL) project, explained why many adults are not literate and gave several explanations of how to fix the problems of literacy through education.
Clairmont, who struggles with reading and writing, is simply grateful to be given opportunities to further his education. A few weeks ago, after not being able to find work, he went to the Labor Department, where they told him he would be unable to get a job in today's market without a GED.
Consequently, they helped him enroll in the Raphael Wheatley Skill Center, where he met a few people who offered to bring him to the Education Summit free of charge.
"I love it, I've had the opportunity to do something for the first time and now I am getting my GED," he said.