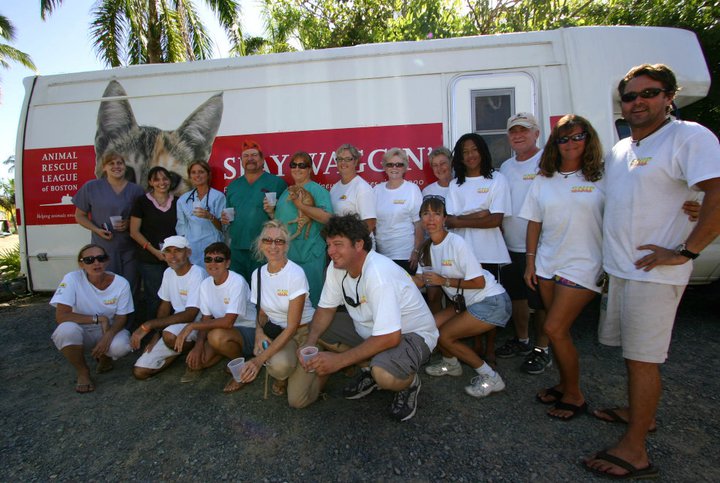 The SNIP (Spay/Neuter Island Pets) program hosted this past weekend by Bolongo Bay Beach Resort resulted in the spaying and neutering of 104 animals, focusing on feral cats. The goal of 100 was set by the event organizers, Sunshine Foundation of St. Croix and Lucky Paws Foundation of St. Thomas.
Dr. Stacia Jung of St. Croix along with Dr. Tom House led a surgical team of four vet technicians supported by over 50 volunteers, including students from UVI, Montessori and Antilles. All procedures were performed on a vehicle donated by the Animal Rescue League of Boston. The Spay Waggin', as it is known, will now become a permanent fixture in the territory with projected future use on St. Croix and St. John. "This is a dream come true," said Dr. Jung. "We now have a major resource to assist us in our fight to end pet overpopulation in the Virgin Islands." Dr. House said, "We were quite encouraged to find a relatively healthy and clean feral population as a result of the efforts of the Humane Society of St. Thomas' Cat Café program."
The SNIP concept was incubated by Jim Hines, a St. Thomas animal lover and activist who shares the goal ending pet overpopulation in the Virgin Islands by providing low-cost spay and neuter services to people and pets in need. According to Hines, "The public's positive reception of the first ever low-cost spay/neuter weekend in V.I. history is gratifying. Kudos goes out to all of the many volunteers, especially the trappers who were greatly responsible for the weekend's success."
Pet owners must assume their responsibility to spay/neuter their animals to greatly reduce the unnecessary euthanasia of so many thousands of cats and dogs every year in the territory. With active participation from all of the veterinarians and vet technicians, SNIP's goal for a more humane Virgin Islands can be achieved.
The organizers would like to sincerely thank the following sponsors:

Animal Rescue League of Boston, Aquafina, Bellows International, Bolongo Bay Beach Resort, Cape Air, Crowley Shipping, Gatorade, Lucky Paws Foundation, Seaborne Airlines, Sunshine Foundation and West Indies Corporation.