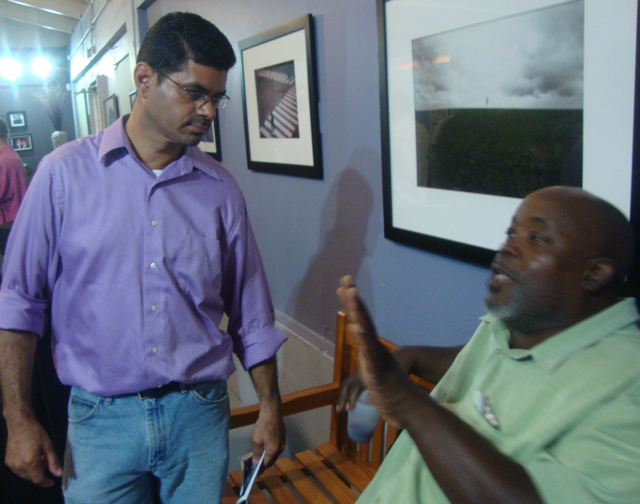 Sen. Sammuel Sanes was singled out Wednesday night for his effectiveness as a member of the 28th Legislature when the civic group Generation Now presented its fourth legislative report card, assigning an overall grade of B-minus to the Senate.
Generation Now, a group of young professionals who organized eight years ago to focus on making a difference in the community, has been issuing the report biannually before the general election. The nonpartisan group doesn't make judgments on whether a bill is good or bad, but uses the introduction and enactment as an objective measure of a senator's effectiveness.
By that standard, Sanes stood head and shoulder above his colleagues. From the beginning of the 28th Legislature in January 2009 until this Aug. 31, on average each senator introduced 28.2 bills and had 12.6 enacted into law.
In comparison, Sanes introduced 69 measures and had 47 passed into law. That's all the more remarkable said Desiree James—the chair of the group's public policy committee who presented the report Wednesday—when you consider that Sanes is a freshman lawmaker, and freshmen are generally believed to be less effective than their more experienced peers until they learn the ropes.
Sanes, who was present at the Generation Now office when the report was released, was gratified by the results.
"I'm pretty happy," he said.
Sanes, who chairs the Senate's Committee on Public Safety, Homeland Security and Justice, said he entered the legislature with a plan.
"I had a plan in the beginning, had pieces of legislation that I wanted to introduce before the session even started," he said.
Sanes said he and his staff brainstormed, tossing ideas for how to make an early impact. When the session started and senators literally lined up at the Legislative Counsel's office to stake their territory, he was ready to go.
Sen. Shawn-Michael Malone introduced 39 bills, 34 of which were passed, and Senate President Louis Patrick Hill introduced 46 bills, 29 of which were enacted.
Michael Thurland, another St. Croix freshman, finished fourth on the group's scale, with 36 bills introduced, 24 passed.
In fact, James said, though the senators from St. Thomas had more than twice the accumulated legislative experience as the contingent from St. Croix – 70 years to 32, with all for of the session's freshman from the big island – the report card totals are almost identical: 158 bills introduced by St. Croix senators, 91 enacted; compared to 148 introduced by the senators from St. Thomas, 94 enacted.
The rest of the Senate, in descending order of bills enacted, were: Usie Richards, 28 introduced, 24 enacted; Terrence "Positive" Nelson, 29, 22; Patrick Sprauve, 26, 22; Carlton "Ital" Dowe, 28, 20; Nellie Rivera-O'Reilly, 33, 19; Wayne James, 21, 18; Craig Barshinger, 27, 17; Neville James, 25, 17; Celestino White, 27, 13; Alvin Williams, 17, 11; and Adlah "Foncie" Donastorg, 12, 5.
Not only did Sanes have the most total legislation, but he had more in what Generation Now considered "high-impact" areas, including 49 proposed changes to the V.I. Code and 15 appropriations bills.
Generation Now gave the Senate a grade of A-minus for the type of legislation introduced and enacted over the period graded, mostly code changes and appropriations, which affect more residents than other types of bills.
At the same time, it awarded a C-plus for the impact of that legislation, noting that in light of the economic downturn the lawmakers were focused primarily on economic issues. Thus, such issues as health and education, were not given as much attention as the group would have preferred.
Noting the reorganization three months into the Senate, when the majority ousted Donastorg as president and replaced him with Hill, and the recent censure of Sen. Nelson, the group gave the legislative body a B-minus for decorum, a C-plus for effectiveness, and an A-minus for efficiency, coming up with an overall grade of B-minus.
When the new legislature is elected the group will press for reforms in the legislative process, calling for an end to the policy of pre-emption and change the way sponsors are listed to make it clearer who actually brought the bill.
They also will press to limit a senator's ability to offer full bills that have not passed committee as amendments to unrelated measures awaiting a final vote. Such a tactic may be easy for senators who don't want to wade through the legislative process, but they are antithetical to transparent government, especially when the Senate's website fails to display the amendments, James said.
The entire document, titled "De Report Card," can be downloaded from Generation Now's website, www.gnvi.org.
Further information can be obtained by calling James at 513-3478 or Generation Now President Adrienne L. Williams at 643-1710.