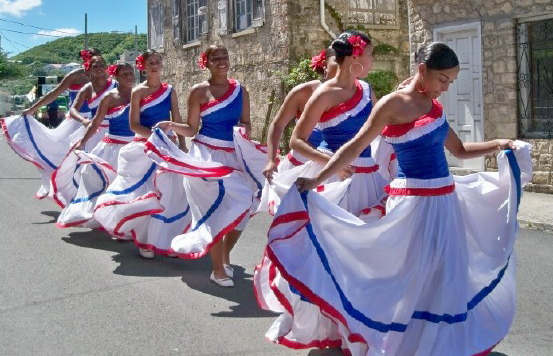 Hispanic music started blaring Sunday from Basin Triangle way before the 1 p.m. scheduled start time for the Virgin Islands Puerto Rico Friendship Parade – La Gran Parada de la Amistad.
The parade, which returned this year after a hiatus, and ran into weather difficulties last Sunday was short, sweet and loud on its rescheduled date.
People sat on balconies and on sidewalks in front of restaurants, bars and apartments with meringue music coming through the windows and doors. DJ Johnny was riding along on a white flat bed truck with huge speakers blaring out his mix.
The loudest part of the parade was the deafening blaring of horns from some entrants in the Jeep cavalcade in the center of the parade. More than a dozen Jeeps of all colors and shiny-black detailing slowly made their way along the route beeping and revving their engines.
Evalshan Band, also on a large flatbed truck, brought up the rear bumping along with more loud tunes.
A St Croix parade always has queens and princesses and their courts riding in the back of pickups and convertibles and this parade was no exception.
The VIPR Friendship Queen was decked out in a huge jeweled crown that glimmered in the bright sunshine Her court wore hats pertaining to Puerto Rico and the Virgin Islands and their shared history and heritage. A large group of St. Croix Majorettes of all sizes marched and twirled along to the D.C. Canegata Park and Friendship Village.
And there are always dancers kicking up their heels in local parades.
The Ballet Folklorio of Dominicana quietly danced their way down King Street clad in pristine white full skirts trimmed in red and blue and royal blue leotards.
"It was a good parade even if it was small," Sugar Melbourne said. "I like the way they all got together for this."
A Friendship Committee member was giving out VI and PR flags to children along the parade route.