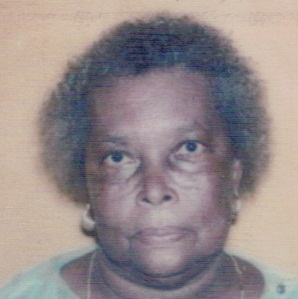 Violet Francois of Estate Whim died on Oct. 10. She was 92 years old.
She is survived by her spouse, Joseph Francois; daughters: Beryl Doward and Myrtle Green; stepdaughter, Nora Brown; son, Melvin A. Petersen; sister, Eldra Canton; brothers: Iver Eric Abramson and Rupert A. Abramson Sr.; sister-in-law, Juanita Abramson; daughter-in-law, Mildred Petersen; son-in-law, C.D. Brown; nieces: Caprice Abramson and Bernetta Abramson; nephews: Marc Abramson and Rupert Abramson Jr.; and grandchildren: Michael Boutte Sr. and Howard Boutte, Dwayne Doward, Dameon Doward, Maureen Petersen House, Marleen Petersen, Maisie Cain, Valerie Atkinson, Melanie Petersen, Melvin Petersen Jr., Linda Dewar, Sandra Rollins, Pamela Lewis, Marcia Roberts, Natasha Francois, Adriana Newton and Christiane Brown.
She is also survived by great-grandchildren: Michael Boutte Jr., Elizabeth Boutte, Marilyn Walton, Jonathan Boutte, Nichelle Boutte, Tanya Doward, Bianca Doward, Tenisha Doward, Johonathon Doward, Amani Doward, Amaya Doward, Jermande Doward, Milton Doward, Masoud House, Malik House, Crystal Cain, Dericia and Desaric Walwyn, Jamal, Jasmin and Jerica Atkinson, Jamar Petersen, Nekia and Shauna Roberts, Kyle and Kaiya Lewis, Randy Rollins, Marc and Venus Greene, and Siobhan Donawa; and great-great grandchildren: Devon Atkinson, Madison Grant, Marvell and Michelle Rollins, Maalak Edwards and Phoenix Walton; many cousins and friends too numerous to mention but not forgotten; special mention of her caregivers and friends: Lydell Parris Shaw and Carmen Sweeney.
A viewing will be held at 9 a.m. and a funeral service at 10 a.m. on Tuesday, Oct. 19, at St. Paul's Episcopal Church. Interment will follow at Kingshill Cemetery.
All arrangements are by James Memorial Funeral Home Inc.