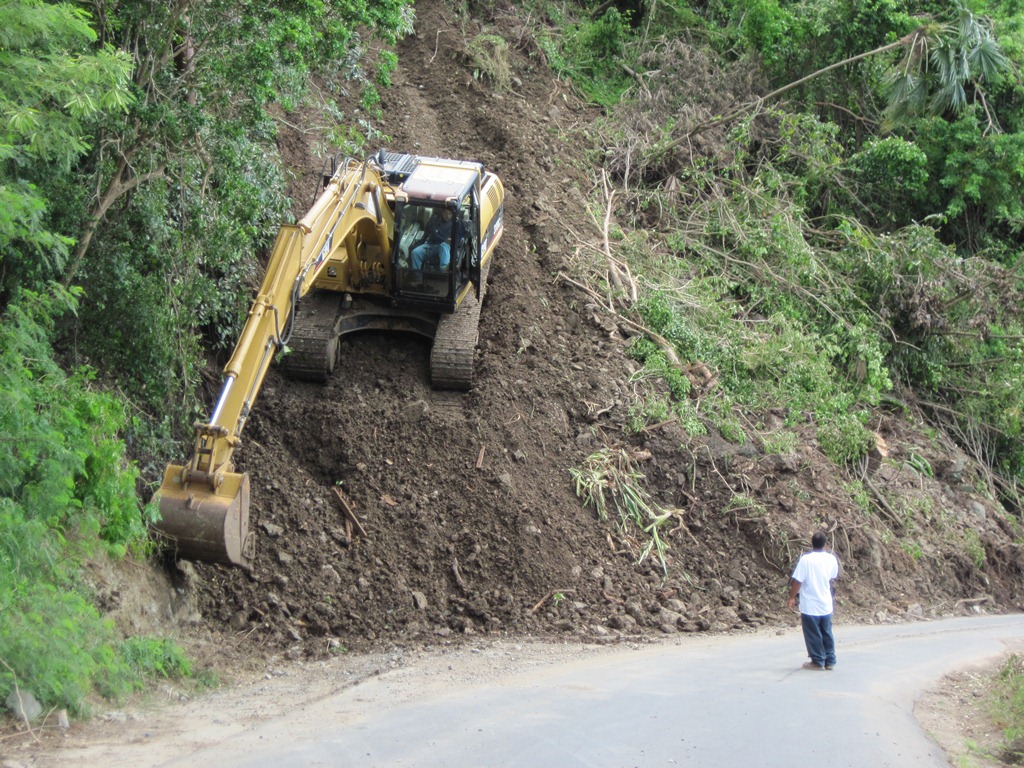 If you have damage from last week's heavy rains, the V.I. Territorial Emergency Management Agency wants to know in hopes that President Obama will declare the territory a federal disaster area.
Coral Bay, St. John residents have been using the word disaster since several enormous mudslides caused extensive damage in the area.
"We need to get everything stabilized, but we don't know how we're going to do it," Gerry Hills, president of the Upper Carolina Landowners Association, said Wednesday.
Plans for a long-term fix will come later, he said.
He called back later in the day to say that VITEMA, Federal Emergency Management Agency, the Small Business Administration, and Public Works Department representatives had visited the area Thursday afternoon to assess the damage.
The Upper Carolina neighborhood, an area in Bordeaux, and Centerline Road all suffered major mud, rock and tree slides, as well as undermining—to the point that there are areas that are dangerous to drivers.
Since Public Works on St. John didn't have sufficient cones on hand to mark off the treacherous areas in Upper Carolina, Hills and Carey Mercurio, whose yard slid downhill to Centerline Road, bought 15 five-gallon buckets, painted them fluorescent red, and filled them with rocks to delineate the dangerous areas.
Hills requested that no heavy construction vehicles use any roads in Upper Carolina because of the danger.
Mercurio, who lost part of her driveway when the hillside slid, can't live in her house. While she said the house is structurally sound, the driveway is undermined and her septic tank is sitting somewhere down hill from where it used to be.
"I'm traumatized," she said.
People across the territory should call Suzette Rojas at the Department of Human Services to request a site visit to assess their damages. The number is 718-2980. Callers must provide an address, phone number and point of contact.
"The site visits are just the beginning of the process. We are gathering as much information as we can to determine whether the territory qualifies for Individual Assistance," VITEMA Deputy Director Operations Noel Smith said in a press release issued Wednesday.
"If the damage to homes and rental properties is significant enough, will we move to next step, which is making the actual request for a presidential declaration for individual assistance," he said.
Smith did not return a phone call requesting further comment.
VITEMA is also coordinating the efforts to seek public assistance, which would assist government agencies and certain nonprofit organizations in their recovery.
To address businesses that may have been impacted by the heavy rains that resulted when Tropical Storm Otto lingered in the area, VITEMA has established a dedicated phone line to gather information from business owners. Affected business owners are asked to call 715-6824.
If the federal government declares the territory's damage from Tropical Storm Otto a major disaster, that information will forwarded to the U.S. Small Business Administration. It may offer low-interest disaster loans.
Hills requested that Upper Carolina residents let him know about their damages. Contact him at stjohncaptain@aol.com.
Reach VITEMA on St. Thomas at 774-2244, on St. Croix at 773-2244 and on St. John at 776-6444.