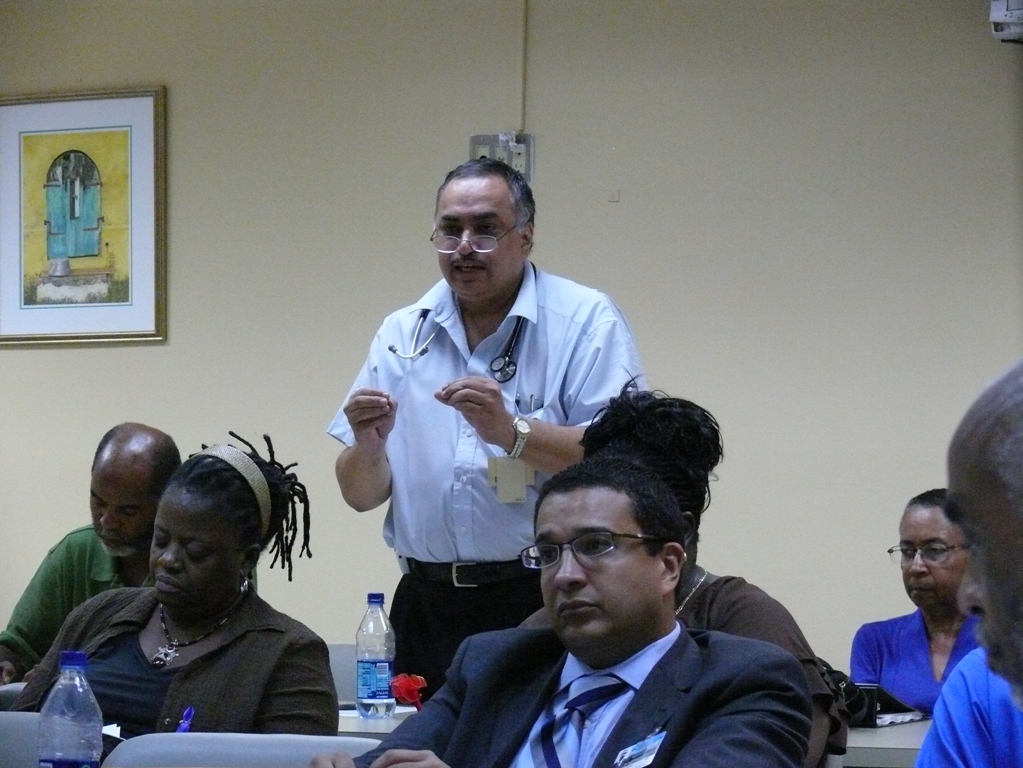 Because consecutive inspections highlighted problems in kidney care, the Centers for Medicare and Medicaid Services (CMS) recently told Gov. Juan F. Luis Hospital to hire a management consultant with broad powers, JFL board members learned during a special board meeting Tuesday.
Through regular surveys and inspections, CMS certifies whether U.S. medical facilities meet its standards of care. Certification means being reimbursed for services to Medicare and, to a lesser extent, Medicaid patients. Conversely, not being certified means CMS halts reimbursements, with a devastating impact on hospital revenues.
During an April 2009 survey, CMS flagged several procedural problems in the kidney unit, particularly with the testing and handling of the water used in the process, and the hospital submitted a plan of correction.
The water problem was corrected, but several subsequent surveys still showed staffing, procedural and training deficiencies. After a survey in June, CMS issued a settlement agreement, directing the hospital to take several concrete steps or face losing CMS certification for its dialysis division.
The hospital was cited for problems with about 25 out of over 700 separate criteria, said Acting Chief Nursing Officer Justa "Tita" Encarnacion, emphasizing that care was still good, even though it needed improvement.
"We have met the overwhelming majority of the criteria," she said. "We have faltered on some infection control procedures and other areas. But CMS has said we are improving drastically even at our last survey. Everyone should go away knowing the staff is surveyed internally on a regular basis to ensure the quality of care."
Initially, the board planned to reduce the strain on the hospital's kidney dialysis program by sending roughly 30 of its 90 dialysis patients to the privately-run Caribbean Kidney Center on St. Croix. The goal, Hill said, was to ease staffing strains and create some breathing room for staff to take time out for more training. But at a dialysis support group meeting Sunday, patients objected to being transferred, saying they like the care they receive at the hospital.
"There were several concerns from patients that we took to CMS after that meeting," Hill said. "First, they wanted to exercise their right not to be transferred to another facility."
CMS told the hospital if patients do not volunteer, "we do not force that issue, but gradually reduce that patient census gradually over time by not admitting any new patients covered by Medicare or Medicaid," Hill said. All current patients will continue unaffected, but effective immediately, Medicare will not reimburse care for new dialysis patients, Hill said.
At the same time, because the hospital has a legal mandate to serve anyone who shows up at their door, the hospital will not literally be turning patients away, said board member Joyce Heyliger.
Amina Saleem, who co-chairs the dialysis support group, said she was happy to hear the idea of transferring patients had been put on hold and told the board patients like the care they get at Juan Luis.
"They are not complaining about the service they are getting," she said. "They don't really see any problems. They know everyone here, they want to be able to stay, and they have a serious problem being sent to someone they do not know."
Dr. Ramesh Lakram, the hospital's chairman of nephrology (kidney care), said patients are receiving quality care now and a handful of highly qualified new nurses and technicians would solve the problems cited by CMS.
"I need a manager who understands not just the clinical part of hemodialysis care but the financial and business part," he said. "I need a head nurse who understands the workings of the department and an assistant for when she is not there." Since he began at Juan Luis five years ago, the dialysis section has gone from losing $3 million a year to losing $1 million a year, he said. With those three key staff positions filled, Lakram said the dialysis section could both become compliant with CMS and eventually become profitable.
"In my opinion it can be done, because at 60 patients or more, the industry makes money," he said.
Ultimately, many of the decisions will be made by the interim management consultant mandated by CMS.
CMS has provided the board with a list of acceptable names, the board will select three, and CMS and the board will work together on the final decision, Hill said. The consultant must be hired by Oct. 29 and CMS will resurvey the hospital sometime in the next nine months, he said.
At CMS' direction, the board voted to authorize Hill and Juan Luis Chief Executive Officer Darice Plaskett to establish an escrow account to hold $200,000 to ensure the new interim manager is paid on time. The board chose to set up the account with FirstBank.
Voting yea were Hill, Heyliger, Imelda Dizon, Kye Walker and Deepak Bansal. Wallace Phaire voted no. Carmelo Rivera was absent. Dr. Keri Biscoe resigned from the board this week to concentrate on her private practice, according to a letter from Biscoe read into the record at Tuesday's meeting.
The board's next meeting is scheduled for Oct. 20 at 5:30 p.m. in the hospital's third-floor conference room. The hospital's dialysis support group will meet again Oct. 17 at 2 p.m.