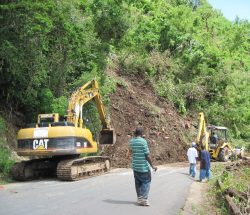 The damage on St. John from last week's heavy rains is "incredible," Public Works Commissioner Daryl Smalls said during a tour Monday of the hard-hit Coral Bay and Bordeaux areas.
Smalls had to wait on Centerline road while crews again cleared a reoccurring mud, rock and tree slide that runs at least 200 feet downhill from Carey Mercurio's house in Upper Carolina.
Several areas in Upper Carolina have slides that reach Centerline Road but the one at Mercurio's house cost her part of her driveway and forced her to move out of her house because she doesn't feel safe. The mud, rocks and trees continue to slide downhill.
"It's frightening me because it's moving this way," she said.
That hillside as well as others haven't stopped moving since the rains began nearly a week ago. On a side road in Bordeaux just below the Bordeaux communications tower, the entire hillside slid down, blocking the road to several houses and covering about 175 feet of road.
Aldria and William Wade, who were trapped on the far side of the slide, talked about the impact of of uphill development on their road.
"Up there they don't care where the water goes," William Wade said, speaking about his uphill neighbors.
Crews cleared away the Bordeaux slide by Monday but the road below was still soupy. Smalls had toured the area Saturday but since then at least one new slide happened near the major slide.
Centerline Road above Pam Gaffin's house is undermined by at least three feet, posing a danger to drivers.
Smalls urged everyone to drive cautiously along the section of Centerline Road leading to Coral Bay because of the mudslide danger and the threat of undercuts roads collapsing.
He seemed shocked to learn that despite the obvious road damage, at least five concrete trucks had traversed Centerline Road on Monday.
Issuing an on-the-spot edict, Smalls said that except for trucks and heavy equipment belonging to the Public Works Department and its contractors, no concrete trucks, other big trucks and heavy equipment are to use Centerline Road east of the Bordeaux overlook until he says it's safe to do so.
As for the Centerline Road mudslide below Mercurio's house, Small said that a crew will continue to monitor it and clear away the earth, rocks and tress when they reach the road. Crews constructed an earth berm Monday to help with the problem. Traffic waited close to an hour while they worked to clear away the latest slide and create the berm.
According to Deputy Public Works Director Ira Wade, the pipes in Upper Carolina designed to channel water when it rains are insufficient in size.
"The pipe is 17 inches. You need 36-inch pipe," Ira Wade said, tape measure in hand.
Ira Wade said that if the Planning and Natural Resources Department approved construction of the road, it is at fault for allowing pipes too small to handle a huge flow of water like occurred last week.
Gerry Hills, who is president of the Upper Carolina Landowners Association, said he's been unable to contact all the people who own property in Upper Carolina. He said there are 118 lots with about 50 to 60 of them with homes.
He asked that anyone with Upper Carolina property contact him at stjohncaptain@aol.com or 642-3360.
Coral Bay residents were quick to thank Public Works, the V.I. Water and Power Authority, police, and other agencies involved in solving the area's rain-related problems. However, Aldria Wade had a special thank you for resident Adam Cook, who put down planks and pallets so residents trapped by the Bordeaux mudslide could at least walk out.
Smalls also had a positive thought.
"There's been no loss of life and I'm not aware that there are any injuries," he said.
He asked residents whose areas are not yet repaired to be patient.