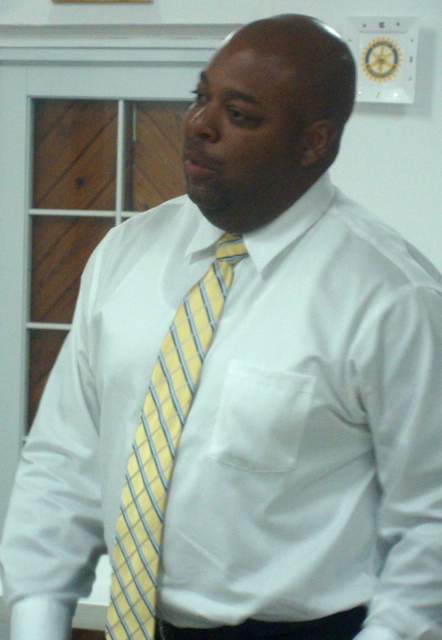 WAPA Executive Director Hugo Hodge Jr. opened his talk to the St. Croix Rotary Club West Tuesday by telling them the hardest part of his job is dealing with misinformation. And by the time the meeting was over, he'd proved his point.
Hodge dove into one of the most controversial items relating to WAPA – the Levelized Energy Adjustment Clause, or LEAC, which makes up such a large and sometimes alarming part of electric bills in the territory.
Every utility in the United States charges for actual energy used, Hodge said, and that's all the LEAC is.
"There's not a utility anywhere in the United States that doesn't have a fuel cost on the bill somewhere," he said.
Of WAPA's roughly $340 million budget, Hodge estimated $280 million comes from the LEAC, but that money doesn't go to WAPA, he said.
"It's a pass-on directy from the consumer to the fuel provider, Hovensa," he said. "None of the LEAC goes to WAPA salaries, administrative costs, maintenance, cars, equipment or anything like that."
And about 25 minutes later, when Hodge finished his short talk and began taking questions, the first person who stood up asked, "Why does the LEAC go to administrative costs?"
"I never said anywhere … It is not used for administrative costs," he said with an edge in his voice. "No administrative costs, no cars, no salaries."
The LEAC is based solely on the current cost of fuel, he said. And the cost of fuel is high and volatile, he said.
Most Caribbean islands use oil to generate electricity – not because they're stupid or didn't foresee rising oil prices or because they're captives of the oil industry. It's a question of scale, Hodge explained.
Island systems like those on St. Croix and St. Thomas tend to be small. Oil-burning plants are the only conventional generators that can fit that small scale. At peak, WAPA generates about 85 megawatts of electricity on St. Thomas and about 55 on St Croix, but those figures vary widely during the day.
A generating plant works most efficiently, Hodge said, when it's working at peak performance. To deal with the fluctuations, WAPA needs to bring individual units on and off line to meet the changing load.
Oil prices shot up in 2007, from about $55 a barrel to over $150, "and they ain't coming back," Hodge said. Which has led to interest in alternative energy sources, particularly renewable energy. But Hodge reminded the Rotarians that renewable doesn't necessarily mean cheaper.
"They talk about solar and say, 'Oh, the sun is free,'" but the equipment you need to make electricity out of solar energy isn't free. Similarly, people tout the advantages of wind power, but there has never been an accurate survey of where in the territory's reliable wind sites are located. The first step is to position anemometers around the islands to calculate wind availability over the course of a year, a process that is under way.
Hodge said he doesn't want to discourage people from exploring alternatives, but he has to be realistic. Developers on St. Thomas have proposed a geothermal project using new technology, and while the territory has never shown much geothermal potential in the past, he contracted with them to buy one megawatt of electricity. They can use that agreement to help obtain financing, he said.
"If it works, we'll buy the electricity and negotiate for more," he said.