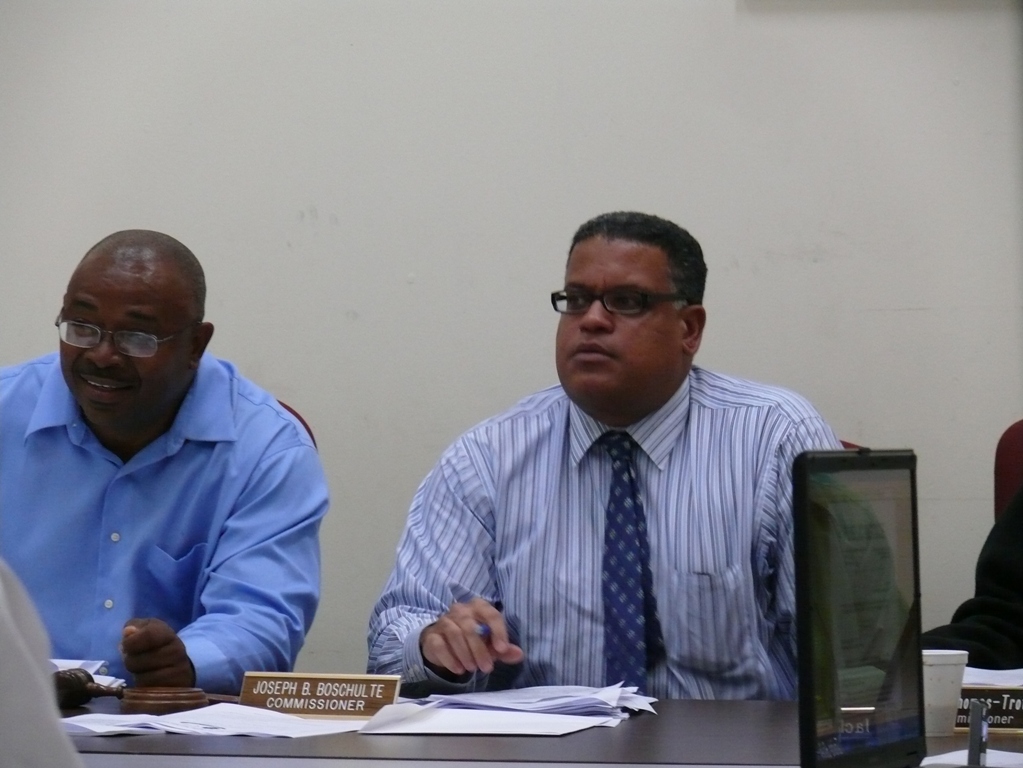 Officials from V.I. SeaTrans, the St. Thomas-St. Croix ferry operators, told the V.I. Public Services Commission Tuesday it was unable to pay more than $70,000 in PSC fees by the end of September, prompting PSC members to suggest the V.I. Department of Justice may need to step in (See Editor's Note at story's end).
"We acknowledge we owe the fees," said V.I. SeaTrans Executive Director Marjorie Smith, "but our current financial position makes payment impossible at this time."
While fuel costs have gone down for the company, maintenance and operations costs have gone up, with one major engine replacement this year costing $250,000, she said. At the same time, government subsidies have consistently been less than the amounts approved by the V.I. Legislature and less than SeaTrans requested. Last year, SeaTrans requested $650,000, of which $500,000 was approved by the V.I. Legislature. The company ultimately received $480,000. This year, SeaTrans is again asking for $650,000.
"I do get the subsidy payments, which oftentimes at least partially bail me out of debt," Smith said. "Even so, when we were supposed to get $150,000 they gave me $135,000, so the partnership is not working. I have a call in to the governor to reassess the subsidy. … Unfortunately, I put trust in the government when we sat down and performed the feasibility study for running these routes."
That SeaTrans did not receive any subsidy during its first year running the route, even though its business plan and rate schedule were based upon receiving those funds, has put the company in a cash crunch right out of the gate, Smith said.
"Ideally, we would need $800,000 to $900,000 in subsidies," to properly run the St. Croix-St. Thomas route on its current schedule and fare levels, Smith said.
While sympathetic, PSC members stressed they could not casually set a precedent where a regulated company refuses to pay assessments, because it would send a dangerous message to other regulated utilities.
"The law states the company must be assessed," said PSC member Donald Coles. "You're telling us you cannot [pay], that is in violation of V.I. law and the commission has a duty to act."
If the payment is not made by the end of September, the dispute may be turned over to the V.I. Department of Justice for resolution, members warned. No vote was taken on the question Tuesday evening.
In other business, the PSC voted to table a request by Centennial Communications to give up its federal Eligible Telecommunications Carrier status and the federal Universal Service Fund money that status brings.
The USF is a Federal Communications Commission-controlled program designed to bring better telecommunications services to rural and insular areas. Funds must be spent on phone service in the territory, so the more USF funding for the territory, the better for phone service and for the economy in the territory. Centennial received ETC status in February, shortly before it was purchased by AT&T. However AT&T chooses not to participate in the USF program.
A source with another provider said USF accounting requirements were cumbersome, and AT&T may find it more cost effective to give up the funds rather than mold and change its procedures to adapt.
USF funds are distributed based upon the number of customers a company has, up to a total determined by the Federal Communications Commission. Vitelco can get up to $4.5 million this year, and all its cellular competitors can vie for up to $950,000. Choice Communications is also eligible for a share of that $950,000, but only has a relative handful of customers to date. Since the funding is based upon numbers of customers, if Centennial gives up its share, the money does not automatically go to Choice, but only an amount reflecting Choice's subscribership.
The PSC tabled Centennial's request for six months in the hopes that Choice will be able to ramp up its subscriber base over that time, so it can take a higher share of the available money. It also voted without dissent to accept consultant reports recommending Vitelco and Choice retain ETC status.
In other business, the PSC also approved a series of annual and docket-specific assessments on each of the utilities it regulates. It also approved a Vitelco request for a temporary waiver of a regulation requiring it to credit subscribers at one and a half and two times the normal daily rate for each day out of service in excess of 24 and 72 hours respectively. Vitelco asked that it be allowed to reimburse for outages after Hurricane Earl at a one-to-one rate. Voting yea were PSC members Joseph Boschulte, Verne David, M. Thomas Jackson and Donald Cole. Elsie Thomas-Trotman voted nay. Sirri Hamad was absent.
Editor's note: An earlier version of this story incorrectly gave a different sum due the PSC from V.I. SeaTrans. According to PSC Executive Director Keithley Joseph, V.I. SeaTrans owes the PSC approximately $55,000 in docket-specific assessments and $15,000 in annual assessments for a total of roughly $70,000. The Source regrets the error.