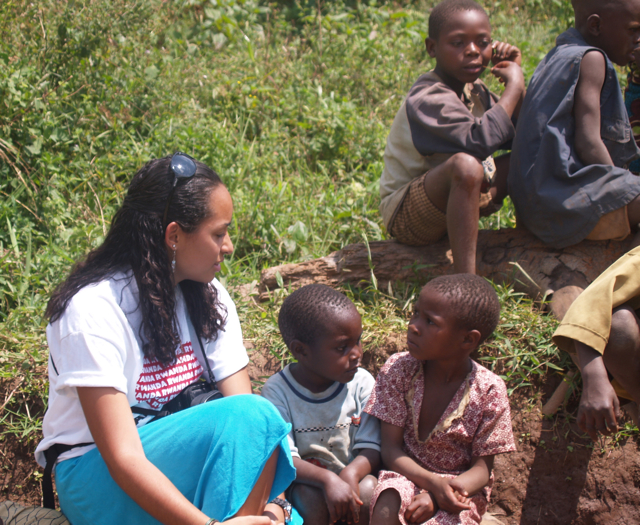 Zoe Banfield, one of 10 students who returned last month from a three-week trip to Rwanda – another culture in another country – is full of newly acquired wisdom.
"While this trip was a service project, an exhilarating exploration, it is much more than both of those things," she says. "We had the very important task of learning, and sharing our knowledge with people at home in the Virgin Islands."
Banfield and three of her fellow Antilles school students did just that this week in a presentation before Rotary East. Along with the two adults who accompanied them – chaperone Cheri Ward and Rwanda Project co-founder Shaun Pennington – the girls brought their adventures to life.
When she was around the age of 20, Ward says she went on a similar humanitarian aid trip to Nicaragua and Belize, where her group helped build homes for orphans.
"I look at the Rwanda Project as a way of me giving back," Ward, now 28, said Wednesday. "I was lucky enough to be a student going on trips like this. The experience can be life-changing."
The Rwanda Project USVI enables local high school students to travel to the Central African nation of Rwanda to learn, engage in community service projects and promote cultural and educational ties with the people of the country.
This is the project's second trip. In 2008 a group of 11 students and five adults traveled to Rwanda in a hands-on effort to help some of the youngsters orphaned by HIV/AIDS. They visited the orphanages, helping in maintenance work, getting to know the children, bringing back experiences which they say live with them today.
This year's students spent two days in the Rwanda capital Kigali, where they visited orphanages before heading to Banda Village for six days. The four girls agreed that Banda Village, where they painted the nursery school, planted trees and plants in the sustenance garden, and traveled to see the mountain gorillas, were the high-water marks of the adventure.
Water, in fact, is an element that the teenagers came to respect in a whole new way, living in Rwanda with no running water, flush toilets, nor electricity.
The four high school students needed no encouragement to share their stories. They leaped right in, no giggles, no shyness.
One of the group's final projects was to help with a system to bring water to a small orphan center in Nyakinama, a village in northwestern Rwanda. Because it had to be mostly installed before they arrived, the students helped with the last few feet of line and got to watch the children play with the running water. The project was sponsored by a $1,200 donation from Rotary St. Thomas Sunrise.
However, work did await the teenagers – creating a garden in Nyakinama, which turned out to be a lot of physical labor, moving rocks. Diandra Capdeville says, "It was hard, but really interesting. We moved all this rock, the local kids helped us, while laughing a lot."
Capdeville fell in love with the orphans in Kigali, as had the students on the first trip.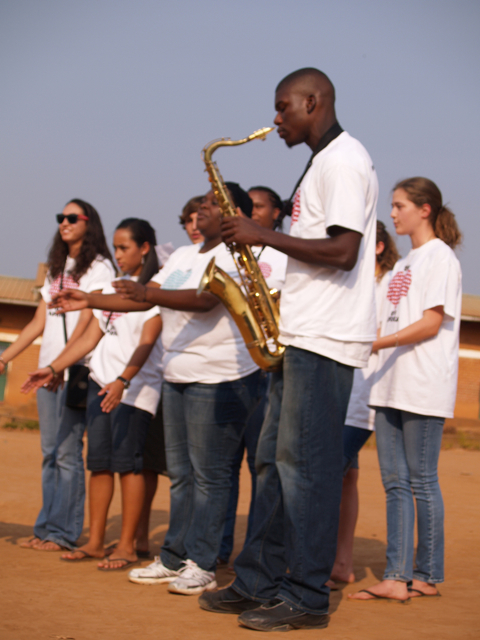 "They danced with us, played games, they laughed with us. I just felt a whole new outlook on everything, actually being there, and seeing how happy the people are even though they have lost so much."
As for running water, it's not like home.
Sakile Hall says, "There was a woman who heated water for us on a kind of small coal stove, then, in the back of the house, we'd take the bucket of hot water she gave us into a little cement room and mix it with a bucket of cold water that was there, and that was it. We scrubbed, and dumped the water in a small hole which ran down the hill into the compost."
The students stayed in the Kageno guest house, where they ate meals and slept in between their adventures. Kageno Worldwide, Inc. is a New York City-based non-profit international community development, which is helping the Banda villagers.
Speaking of the food, Hall says. "The pineapple, oh the pineapple. It's amazing. We ate a huge plate at breakfast, we ate until our tongues started to burn. It's so fresh and sweet."
Hall says, "We had a hard time explaining why our skin was the same color – 'how come you look like me, but don't speak like me? – our driver told us they thought we were nice, but stupid because we couldn't speak their language."
Hall says she came back amazed by "how much a country can change."
"The people wave to you, they are happy to see you. It's like the genocide never happened. I have a new appreciation for the strength of the people; they've overcome so much and turned it around," she says.
Kali Bunn, says, "We have so much excess. It really changed me. I haven't ever seen anything like the poverty, the malnutrition. It opened my eyes to how fortunate we are. It's just amazing how those people have come so far."
Banfield echoes the feeling of all the girls for the people.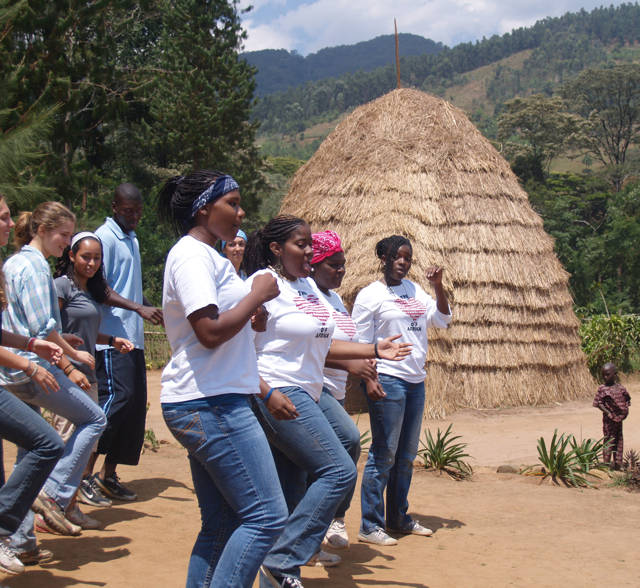 "It was amazing staying in Banda village, my favorite time," she says. "The people welcomed us so completely, the little kids coming up shaking hands.
"The trip made me more interested in global affairs, the political aspect," she says. "Just how far the people have come from the genocide. … the process of healing you see."
Along with the four girls, students Jonte Samuel, Landon Bunn, Ki-Yanna Petrus, Jenne Bougouneau, Alexzandra Scully, and Evanna Chinnery made the trip.