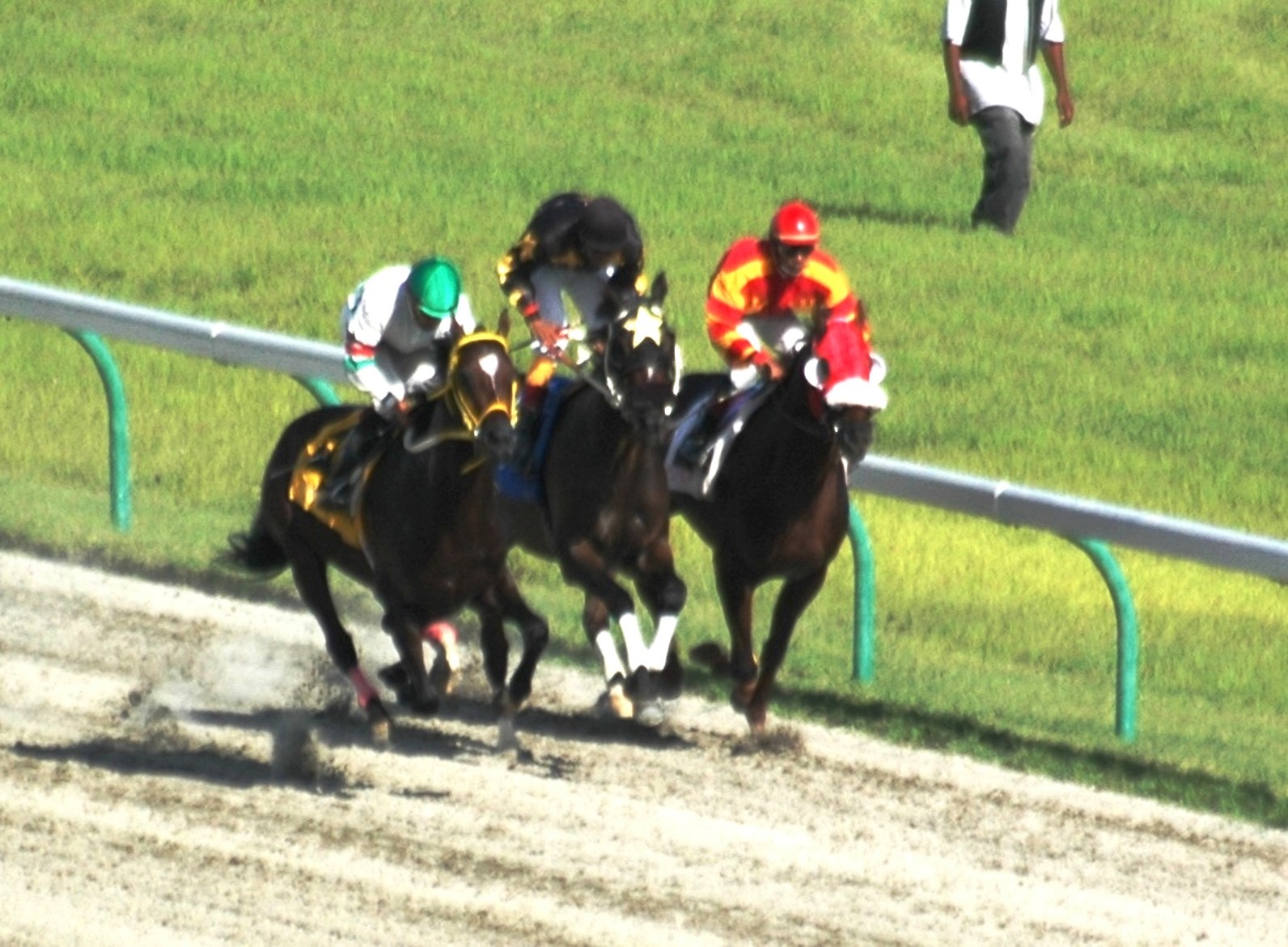 After heavy rains delayed his debut on St. Croix by one week, El Real Madrid exploded out of the gates and never looked back as he went wire to wire to win impressively by 10-and-a-half lengths in Sunday's featured race at the Randall Doc James Race.
Long after he crossed the finish line, the grandstands were still buzzing with excitement after fans watched El Real Madrid cruise around the track seemingly unhurried by jockey Miguel Sanchez but still turning in an impressive time of 1:37 against a field that included three top St. Croix thoroughbreds. Most of the local fans' excitement came from the fact that they know that St. Croix now has a horse that can run with the best of the British Virgin Islands in East End Tap And Travelyan.
At the break, El Real Madrid came away on top with Spanish Market and jockey Sunday Diaz right there next to him. The two would run past the grandstand for the first time a head apart, with lost River and jockey Wilfredo Lozano running two lengths back in third, and Temo's Dream and jockey Junior Inirio some five lengths off the pace.
The two frontrunners rounded the clubhouse turn and into the backstretch almost as one, but while El Real Madrid was running at a relaxed pace, it appeared that Spanish Market was working very hard just to stay with him. Nearing the three-eighths pole, Sanchez shook the reigns, and El Real Madrid responded by easily drawing away from Spanish Market.
Meanwhile Temo's Dream was putting in a huge run from last place, and by the time the field turned for home at the top of the stretch he had collared Lost River and Spanish Market, but there was no catching El Real Madrid.
As fast as Temo's Dream was coming, El Real Madrid was going even faster pulling away with every stride. Sanchez finally took his foot off of the gas about a half-furlong from the finish to cruise under the wire in a dominating debut performance.
It was the performance many race fans came to see; and they got that and then some.
The rest of the day's results:
Race1 7 F Class N-4, N-5&N-6, Jockey
Time: 1:31
1. Express to Cali, Sunday Diaz
2. War, Junior Inirio
3. King of Kings, Elmo Barnes
Race2 7 F I-4 & I-5(M/F) Jockey
Time: 1:29.1
1. Apron's dance, Junior Inirio
1A. Devil's Revenge, Steven Powell
2. Cherokee Neeh, Alberto Ojeda
3. Sweet Tea, Jose Rivera
Race3 7 ½ F I-4 & I-5Jockey
Time: 1:33.4
1. Ala Cat, Jesus Guadelupe
2. Wiseman's Choice, Junior Inirio
3. Mi Jesus, Angel Viera
Race4 7F Class I5 & I6 (C/G), Jockey
Time: 1:28.1
1. Elston V, W. Hurst
2. Black Machine, Alberto Ojeda
3. Russian Way, Jesus Guadelupe
Race5 1M I-1, I-2, & I-3 M/F, Jockey
Time: 1:33.1
1. Bonny Bonita, Angel Viera
2. Leggy Blonde, Junior Inirio
3. Flankers Lady, Christian Soto, Jr.
Race7 7 ½1M Class I-1 to I-2, Jockey
Time: 1:31.4
1. Puertorican Emblem, Angel Viera
2. Heats on Fire, Christian Soto, Jr.
3. Salty Glider, Sunday Diaz