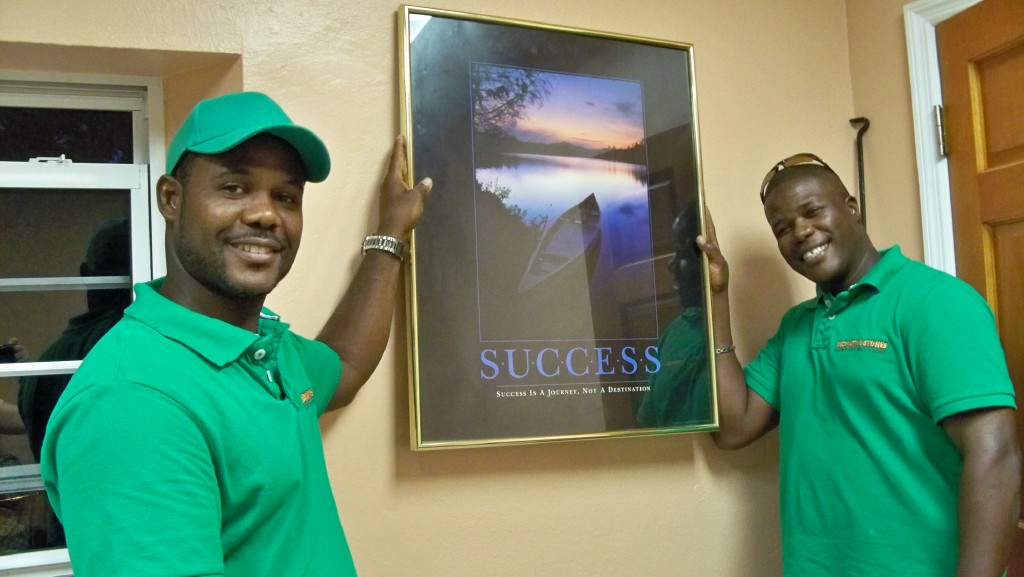 Sunday Market Square in Christiansted was vibrant and full of life Thursday evening as the St. Croix Foundation celebrated 20 years of helping the community.
Hundreds of community leaders and local business people joined in the celebration at the St. Croix Chamber Business After Hours party.
Folks got a peek at the interior of the old Alexander Theater as well as getting the opportunity to tour renovated offices for rent and that now house the Foundation.
Napoleons Pizza which has just opened a shop on the corner of King and Market Streets was serving free samples of pizza, carrot and red velvet cake. Tuto Bene and Singh's Fast Food also added hors d'oeurves to the spread. There was cake made by Manuel Lugo and steel pan music by Tamboo Bamboo.
The Foundation has good reason to celebrate, with numerous accomplishments since its creation in 1990.
The Foundation was created by a group of citizens concerned about the deteriorating quality of life following the devastation of Hurricane Hugo in September of 1989. The group was lead by Michael Neuburger and Phillip Gerard and became known as the St. Croix Foundation (SCF). In 1992 the Foundation received its first operating grant from the Ford Foundation.
The role of SCF is to serve as a repository of philanthropic funds, develop grant programs and to provide fiscal sponsorship services. SCF provides those services to up to 50 small non-profits, community based programs and grassroots initiatives.
SCF recognized the deterioration of downtown Christiansted so its first focus was on community development.
It reached out to Virgin Island Tri Island Economic Development Corporation, owners of a number of derelict buildings on Sunday Market Square. In 1996 VITIED filed for bankruptcy and SCF served as court receiver of the property in bankruptcy. SCF boarded up and cleaned up the property. SCF was able to purchase seven VITIED buildings and then sold several buildings at cost to tenants such as the Thomas Bakery. Further restoration of Market Square was completed in 2005 with Federal Highway funds.
Since 2001 the Scrape, Paint, Rejuvenate Program has granted over $500,000 for painting boarding and the cleaning of buildings in Christiansted and Frederiksted.
Following its commitment to economic development SCF launched the Small Business Incubator in 2009 on Market Square. The incubator is housed in the Chase building and provides cost-effective fully equipped office space for new and small businesses. The renovation was made possible with grants from the Public Finance Authority, Community Development Block Grant Program and USDA Rural development.
"Having our office in the incubator is great," said new tenant Jermaine McFarlane, of Decorative Stones. "There is nothing better than this location and the view." His partner Chris Victor said the rent was very reasonable and the amenities included were perfect.
SCF realized that downtown revitalization couldn't succeed without improved public safety so in 1995 they initiated a partnership with the V.I. Police Department. The Foundation houses the Christiansted Bike Patrol rent-free on Sunday Market Square.
The foundation realizes that the community's most pressing socio-economic problems lead back to education so SCF has developed a comprehensive educational initiative.
Its staff came up with the Model Schools Initiative for public schools to help develop programs in literacy, classroom enrichment and educational best practices. The Foundation will soon launch Community Grants Program for public schools for professional development and vocational education. It also offers student scholarships for math, science, arts, literacy and adult continuing education.
The Foundation's office relocation to Sunday Market Square adheres to its goal of rehabilitation and economic development of Christiansted town.
"With our move we hope to bring about awareness of the revitalization of Sunday Market Square and bringing new business to town," said Stennett Dariah, community development program officer and property manager for SCF. "The incubator offices are an affordable way to help new businesses to grow and develop."