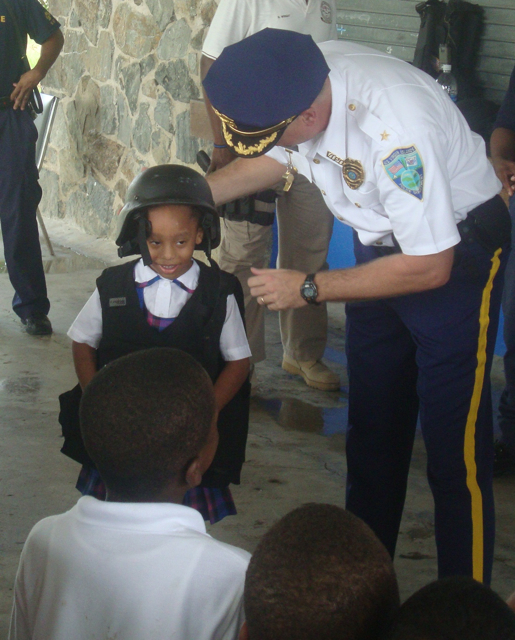 Members of the V.I. Police Department – including a shaggy, four-legged member – came to Eulalie Rivera Elementary School Tuesday to talk to the students about safety.
But halfway through the first of two planned presentations, the officers were suddenly sprinting to the parking lot, throwing their gear into the cars and peeling out with lights flashing and sirens wailing, leaving the 60 to 70 students from kindergarten through second grade curious about what that was all about.
The officers – who included members of the department's Special Operatons Unit and K-9 officers – had just gotten word that a man police had been looking for since an Aug. 14 homicide had been found and was on the run. And five hours later they caught him (See related story, "Fugitive Murder Suspect Captured in Vacant House").
But though they had to make an abrupt departure, the police probably would be pleased to hear that the kids did get their message.
Back in the classroom after the presentation, the young students of Vera Lindquist's kindergarten told a reporter what had happened and what they'd learned.
Stout had talked about firearm safety, and the kindergartners got it.
What's the first thing they should do if they see a gun somewhere?
"Leave it alone," they said.
Then what?
"Run."
Then what?
There was a long pause. They all remembered there was something after run, but there was hesitation. Then suddenly one hand shot in the air.
"Hide?"
Well, Stout hadn't actually said that, but it wasn't necessarily a bad idea. Then another hand went up.
"Call 911?" the small voice asked.
Exactly right!
The officers also showed the students some of the equipment they use, including bulletproof vests, helmets, puncture-resistant gloves and a life vest complete with a flashing light.
The purpose of the visit was to make the children aware of the role police play in the their lives and the community, and that message came through as well.
Back in the classroom the kids were asked to finish these sentences, "The police are your …"
"Friends," they almost all said.
"The police's job is to …"
"Protect me!" one called it. "Help me," said another.
Right on both counts.
And the kids were even savvy enough to know what the officer's sudden departure was all about.
"Why did they leave so fast?" they were asked.
"To chase the bad men," most of them said. Hearing this, one got a surprised look on her face and asked, "They were chasing Batman?"
"No," she reassured. "Batman's fine. The police were chasing a bad man."
And they caught him, too.