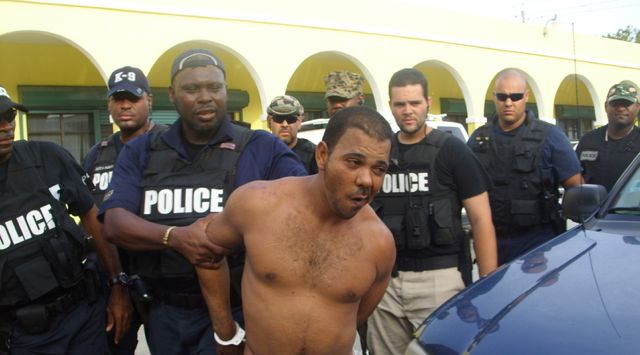 With helicopters hovering overhead and a cordon of officers surrounding the La Grange area, fugitive murder suspect Edwin Encarnacion was captured by St. Croix police Tuesday afternoon.
Encarnacion, wanted in connection with an Aug. 14 homicide in Estate Campo Rico, was found at about 5 p.m. in a vacant house in Estate La Grange.
According to the preliminary police report, officers had originally responded to a report of an accident and carjacking around 11:30 a.m. in estate Campo Rico. Upon arriving, officers discovered a tan van that had crashed through a fence and into a residence.
A male victim, later identified as 41-year-old David Martin, was unresponsive on the ground next to the van with at least one gunshot wound to his upper body. Martin was later pronounced dead at Gov. Juan F. Luis Hospital.
Witnesses told police they were driving by the area and saw the accident. When they attempted to render assistance they were approached by an armed Hispanic male [Encarnacion] who carjacked their vehicle.
Police immediately cordoned off the area, including Campo Rico and surrounding neighborhoods. No other details are available on how police tracked Encarnacion from Campo Rico to La Grange.
Encarnacion is wanted for the Aug. 14 murder of 45-year-old Jorge Parrilla. The suspect was seen leaving Parrilla's house the day of the homicide moments before it began burning. When firefighters came to put out the blaze they found Parrilla inside, dead of a gunshot wound.
It is unclear at this time whether Encarnacion will be charged in connection with Martin's death.