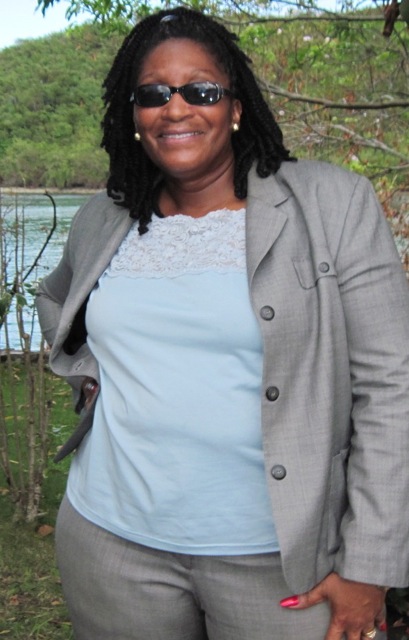 Barbara Dalmida-Thompson is one busy woman. She serves on the board of the Coral Bay Community Council, is involved with the John's Folly Learning Institute, plays an active role in the Democratic Party, finds time for her family, and goes to work Mondays through Fridays as the office manager at the St. John Administrator's office,.
"I make sure everything goes according to protocol," she said, explaining what her job entails.
Turning 50 on Nov. 11, Dalmida-Thompson got to this place in her life by a circuitous route. Born at St. John's Morris deCastro Clinic to Austin Dalmida and Beatrice Dalmida, she spent most of her younger years on St. John. Like most St. John youths who grow up in the Coral Bay area, she attended Guy Benjamin School, then Julius E. Sprauve School before moving on to Charlotte Amalie High School.
She is one of nine children. One of her sisters is Beulah Dalmida-Smith, who serves as head of the Fish and Wildlife Division of the Department of Planning and Natural Resources.
When she got to grade 11, she said her parents decided that finishing out high school while living with her aunt in the Bronx, N.Y. would better suit her. So off she went to the states. She graduated from Bay Ridge High School in Brooklyn before heading to Hunter College.
The birth of her first daughter, Roslyn Dalmida-Sibilly, now 29, deferred that goal. And along the way, she had sons Stephen Dalmida, now 27 and living in Fayetteville, N.C., and Raphael Dalmida, 21, with the U.S. Army in South Carolina.
"I came home in 1990," she said.
Son Travis Dalmida, now 16 and a student at Eudora Kean High School on St. Thomas, was born a few years after that.
In 2000, she married Mervin Thompson, who works in the engineering department at the Westin Resort and Villas. Eight years ago, daughter MeKala was born. And along the way, two of her children gave her a total of six grandchildren now ages two to 10.
"All girls," she said of her grandchildren.
While living in New York, she held jobs at a bank and a real estate firm.
After returning to St. John, she first worked at Caneel Bay Resort, but then served as director of St. John's youth center. When Hurricane Marilyn hit in 1995, she got a job for the Health Department doing evaluations to determine how the residents fared. Jobs with the Planning and Natural Resources Department's Community Development Block Grant program and in the department's human resources division followed.
According to Dalmida-Thompson, a change in the political winds that came when former Gov. Charles Turnbull took office meant a change in her job. She was transferred to small museum associated with the Elaine Sprauve Library. Bored with the lack of activity, Dalmida-Thompson said she went looking for a new job. She soon found one in the private sector at V.I. Partnership.
A chance meeting with then-Sen. Almando "Rocky" Liburd led to a job running his St. John office, a position she kept through Sen. Craig Barshinger's first term. At that point she moved to her current job at the Administrator's Office.
"I love it because it's never boring and I get to meet people," she said.
Administrator Leona Smith said that Dalmida-Thompson makes sure all the myriad things that go with running a busy office get done.
"She's very organized," Smith said.
There are some trials and tribulations, however. Dalmida-Thompson wishes people would first address their complaints to the correct agency rather than going directly to the Administrator's Office.
She's thoughtful when it came to discussing St. John's future.
"I want to see St. John grow, but I don't want to see it lose it's virginity. We don't want it to be just a tourist attraction," she said.
On the subject of tourists, she wondered why those who visit seen to think they won't get run over if they head out into Cruz Bay's streets without looking left and right first.
She's equally outspoken when it comes to talking about today's youths. She said they don't respect anyone, but suggested that problem could be addressed through more youth-oriented programs.
"They seem to be searching for direction, but the only direction they get is negative," she said.
She also sees that St. John has lost its sense of community, a factor that she said would get in the way of any push toward municipal government.
With a very full plate, Dalmida-Thompson said she draws on her faith in God to get through the day.
"God makes me get up in the morning. I'm excited to get up every morning, and glad to be alive," she said.