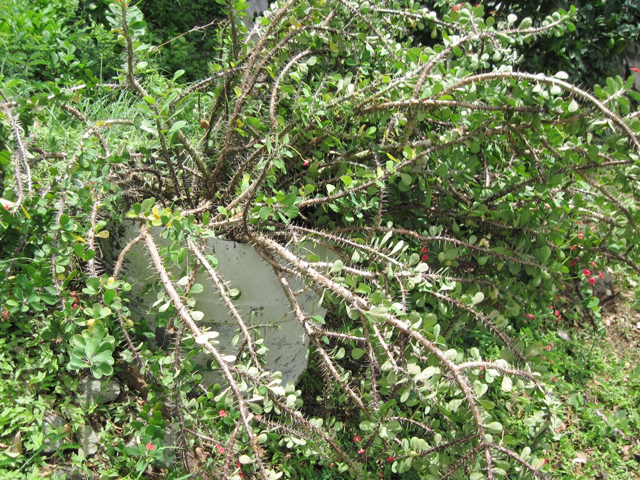 Plants that suffered from Hurricane Earl's brush by on Monday and are now languishing in the broiling sun, need care soon, Carlos Robles advised.
Robles, a specialist at the University of the Virgin Islands Cooperative Extension Service, had lots of advice for residents perplexed about how to best deal with their plant and tree problems.
"Things that are ripped, should be pruned off," he said.
That includes plants and trees that have their stems or limbs hanging by bark only, he said.
Plants that are leaning should be propped up, but be careful what you use to tie the plant to the stake. Robles said wire and similar materials will scrape the bark. Instead, use torn nylon stockings or strips of soft cloth.
Expediency is especially critical when it comes to exposed roots. Robles said if they're dried out, broken or frayed, prune them so they have a smooth cross section exposed.
"Then bring the plant upright and bury the exposed root area under the soil," he said.
Don't fertilize plants with root damage because they no longer have root hairs to absorb the fertilizer, he added.
Many plants suffered wind damage but still have their limbs and stems intact. Robles said that if possible, put parts of the plant that are out of their normal position back to their original place. He said to make sure the plant isn't broken in some spot that isn't easily visible. If the break is smooth, the plant might mend itself
If you've dragged all your porch plants inside and are keeping them there until you're sure another storm isn't about to hit, Robles suggested taking them outside right away.
"Otherwise they will adjust to new light conditions," Robles said.
If the plants are heavy and it's too hard to get them back to their original home while you're in a wait-and-see mode, Robles said moving a short distance outside is better than leaving them inside.
And they should be watered. Robles said that Earl wasn't a giant rain maker so the plants will be thirsty.
As for fruit trees and vegetable plants, Robles said their fruiting will probably be delayed by "some weeks."
If there are power lines running through trees, Robles suggested calling the V.I. Water and Power Authority before working in the area to determine if the lines are energized.
"Be careful," he said.