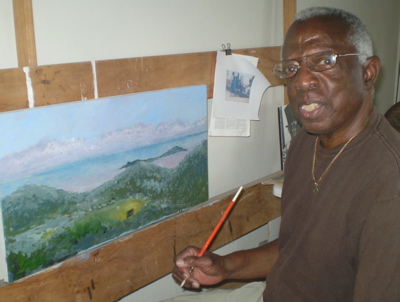 A wide selection of the works of the highly regarded, late St. Croix artist Leo Carty, who died in July, will be on display for a special exhibition this Friday evening at Fort Frederik. Carty .
Born in Harlem, New York, in 1931, Carty's artistic talent was recognized at age 10 when he received a scholarship to the Museum of Modern Art School for Children. He dedicated his entire life to the arts and traveled throughout the world sharing his talent.
After a long and prolific career, including working as a syndicated cartoonist, illustrating numerous books and creating a greeting card company aimed at blacks, he moved to St. Croix in 1976 and began to expand his style and mediums.
In 1996 he received his highest honor when he was selected as a recipient of the Governor's First Awards for Excellence in the Arts for "exceptional contribution toward the advancement of the visual arts in the Virgin Islands."
He often used the historical structures of St. Croix as a focal point in his paintings and frequently painted realistic local figures in period dress from the early 1900s. The paintings, done in oils, acrylics and watercolors, are lifelike scenes of people fishing on the beach, women working together, or weddings at the Lutheran church in Christiansted.
Some of Carty's large paintings are hanging in the halls of the Buccaneer Resort. He painted a three-paneled mural of life on St. Croix, St. John and St. Thomas in the Alric L. Christian Federal Building and Court House in Orange Grove.
The exhibition will be from 7 p.m. to 9:30 p.m. Friday in the Fort Frederik Museum. It is being put on with the help of Carty's family and the support of the Department of Planning and Natural Resources, which operates the Fort Frederik Museum.