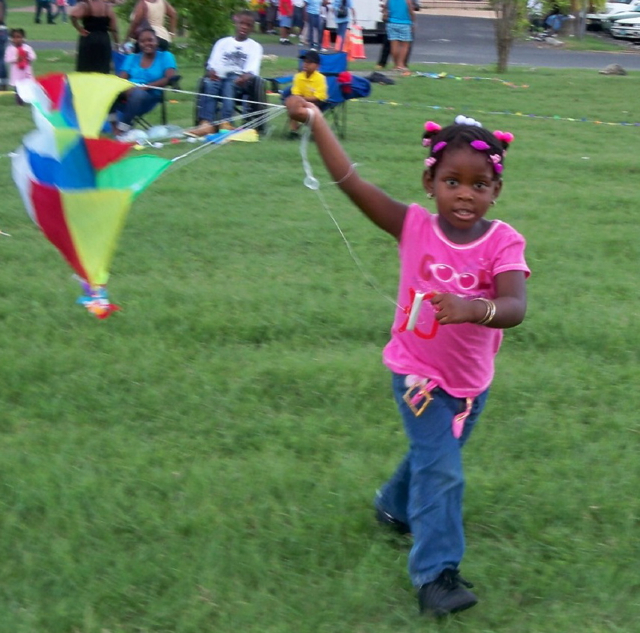 There wasn't enough wind Sunday to fill the sky with the 600 kites given out by the V.I. Autism Network, but it was a fun-filled afternoon anyhow on the lawn at the University of the Virgin Islands.
Hundreds of children, adults and UVI Buc Volunteers came out for the second annual Kite Flying and Back to School Summer Jam put on by the V.I. Autism Network.
Kids of all ages smiled as they scrambled across the lawn trying to get their primary-colored kites with multi- colored tails airborne.
"This is beautiful," said Stephanie Barnes, founder and president of the network. "This is autism awareness at its best. Look around – you can't pick out the autistic kids."
She said the event is to help the community become aware of autism. There were information sheets given out about autism. She said she was thrilled that they tripled attendance this year.
"This is really fun," Kemuel Russell, age nine said. "Kids from all over St. Croix are here flying these beautiful kites."
There were free hot dogs, popcorn, cotton candy, ice cream and beverages provided by Plaza Extra and Seaborne Airlines. Plaza Extra also donated the kites. Music was provided by DJ Mav and the kids were lined up for free airbrushed tattoos. The children also got a bag of back to school supplies to take with them.
"Activities like this make it worthwhile living here on St. Croix," said Sen. Sammuel Sanes."This is wonderful to be able to take the entire family out for an afternoon of fun that was free."
Anthony Joseph was one of those adults that brought his family out for the afternoon.
"I heard about it and just had to bring the family out for some fun," Joseph said. "My kids are really having a lot of fun."
Steven Seibert, an adult with his own special double-wing kite, said a storm that passed and went into the upper atmosphere caused the loss of wind.
"If it clears up we can hope some wind will come from the southeast," Siebert said. "Even without wind it is still enjoyable."