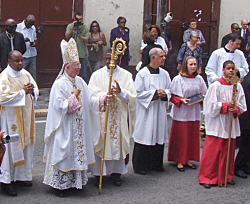 Under a brilliant blue sky, hundreds of Virgin Islanders poured into Ss. Peter and Paul Cathedral Saturday morning to say a final farewell to former Sen. Lorraine Berry, whose spirit will long be felt in the community.
Berry, 60, died July 19 at Schneider Regional Medical Center after an almost year-long battle with cancer.
While the morning sun beamed in through the blue and yellow stained glass windows, a standing-room only crowd filled the 750-seat cathedral, as the choirs of Our Lady of Perpetual Help and Ss. Peter and Paul filled the air with song.
Gov. John P. deJongh Jr. expressed what many were feeling, a mixture of shock and sadness. The governor said, "It is hard to imagine a modern-day Virgin Islands without Lorraine Berry. As a senator and concerned citizen, she helped craft what the territory has become over the last quarter of a century."
The hundreds of folks gathered together Saturday morning reflected Berry's place in the territory's heart. Former and current legislators from all three islands, the business community, educators, clergy, labor leaders, doctors, musicians, to say nothing of the French community, came as one to bid farewell to a woman they knew as a friend.
Later in Frenchtown, Melinda Greaux took time from her baking. Shaking her head, she said, "There will never be anyone like her, never, never."
"I called her to get a ramp put in the sidewalk when my mother was in the States with her leg operation. She had it done before mom got back. She cared about everybody."
Berry's daughter Roxanne Bellotti gave a touching, occasionally humorous and straightforward eulogy, citing her mother's accomplishments while sharing a few family memories.
She spoke with a smile of her mother's first meeting with her father, Richard Berry, at a dance. When he approached her, she made her position clear: "I don't dance close, you know."
Bellotti said that when Richard first came to meet her family, her father Joseph Ledee, a farmer, wanted to know if Richard wanted a pig or a goat – before he found out it was something "more precious" the young suitor had in mind.
The Most Reverend Bishop Herbert A. Brevard delivered the homily.
The handsome 92-page funeral booklet was bursting with photographs and tributes, including three from the heads of state of the British Virgin Islands, Nevis and St. Barthelemy, where Berry has French relatives. Premier Ralph T. O'Neal of the BVI likened Berry's passing to "a cedar falling in Lebanon."
Perhaps not as poetic, the tributes came flooding in from all sectors of the community: the Democratic party where Berry was active for 25 or more years, the French community, civic organizations, the educational, medical and judicial communities, political colleagues, her former and still loyal staff, many, many friends, and, of course, family.
Page after page was filled with Berry's activities, friends, Mothers Day celebrations, Senate meetings, and on the front page, a black-and-white photo of the very young and earnest Berry with her motto: "Give light and the people will find their own way." The booklet's back cover shows the more familiar, mature Berry: "This is Lorraine L. Berry, your humble servant, your voice of reason in the Legislature….signing off.!"
The overriding theme of the messages was recognition of the senator's fighting spirit and genuine care for all. Friend Sonia Boyce said, in part, "Sen. Berry opened doors, she broke down doors and even kicked open a few. She was not afraid because she knew her destiny was blessed."
In "A Tribute to Auntie Lorraine," Amy Durand and Amanda Ledee, said, "You showed everyone that women could stand right along with the men….You have made us very proud and we miss you very much!"
As folks gathered in front of the cathedral after the ceremony, hugging and clasping hands, reaffirming old friendships, a long white hearse left for burial at Our Lady of Perpetual Help Cemetery in Estate Mafolie, followed slowly by the funeral procession.
Sen. Berry is survived by her husband, Richard Berry; daughter, Roxanne Bellotti; son, Kurt Berry; son-in-law, Tony Belloti; grandson Max Bellotti; mother, Emelda Ledee; five sisters, Joan Mojhar, Evelyn Ledee. Esther Ledee, Ursula Bryan and Celeste Brin; three brothers, Winston Ledee, Gregory Ledee and Simon Ledee; and numerous in-laws, nieces, nephews, extended family members, special friends and colleagues.