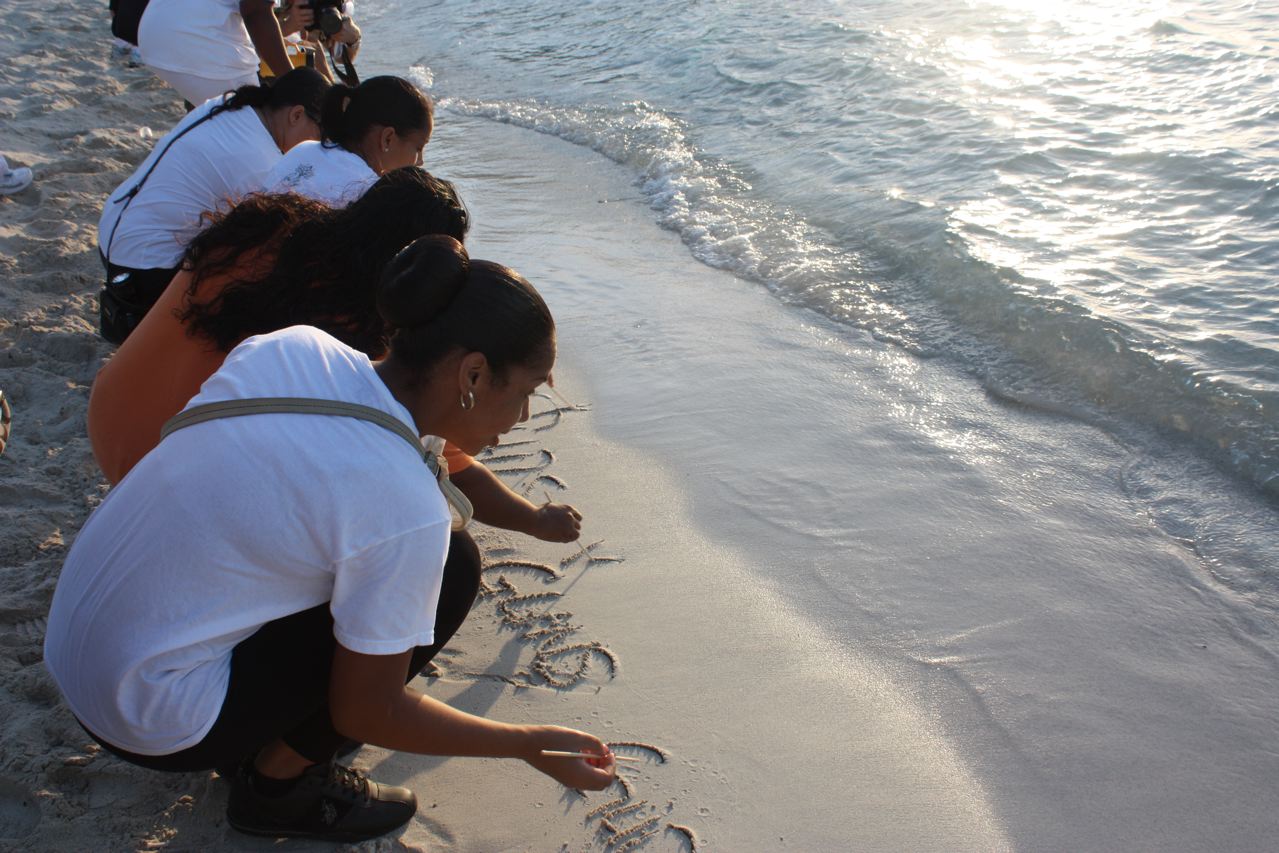 As yet another victim of violence was fighting for his life Monday after a daylight shooting in Estate Nadir, a group of women gathered at Coki Beach to take a stand against violent crime in the territory.
Led by community organizer Judith Grybowski, and with several V.I. police officers keeping a watchful eye, the 15 or so women met just a short distance from the beach where two young people – one, a 14-year-old female tourist; the other, an 18-year-old St. Thomas male – lost their lives. Dressed in all white, the participants linked arms and made their way silently to the shore.
Ivanne Farr, who has done work with survivors of violence, led the group in an exercise in healing. She told the women to write their concerns in the sand and watch the water wash them away.
Local business owner Donna Berry Rile said she wrote the word "confusion" in the sand. She said that in the past, whenever people have tried to unite against violence, things have ended in confusion. "There is no one to steer the ship," she said.
She said her beach equipment rental business has slowed to almost nothing since the deadly shootings. "All of the vendors are hurting."
Rile said she doesn't quite know what to do if business remains scarce. "I'm here for them if they come. Other than that it's just prayer, prayer and praise God," she said.
First Lady Cecile deJongh said that her heart went out not just to the parents of the victims of crimes, but to parents of the perpetrators as well. "It doesn't seem to matter when they know they are going to die or get arrested," she said.
DeJongh said that parents need to talk to their children and know what is going on in their own homes to stop the cycle of violence. "I feel very strongly that we can do something as a community," she said.
Walk participant Carol Rich said that she was there because she has a daughter who is 14 — the same age as the girl who was killed. "All of our kids have ridden on the open safari buses," she said. "This needs to be the start of something."
Grybowski said that she has heard the call to have more events like Monday evening's walk, and plans to have another.
"It's comforting to know that you are not alone," she said.
According to a spokesperson with Schneider Regional Medical Center, the 21-year-old victim of Monday's shooting is in grave condition.