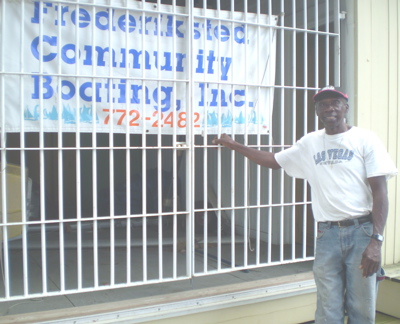 With school out and parents pondering what to do with kids who have time on their hands, Frederiksted Community Boating is signing up students for two summer sailing education sessions.
Started on a shoestring in 1995, the FCB has had its ups and downs, sometimes barely managing to stay afloat. The first two sail boats they started with crashed in 15-foot waves that hit Frederiksted in 1997. But the organization persevered and to date, instructors have introduced more than 600 children to the marine environment through lessons in water safety, physical coordination, self-esteem and environmental awareness. They provide opportunities for children between the ages of 8 and 16 to learn sailing skills necessary to participate in the development of the local marine industry.
Since 1998 an anonymous donor has given the group 14 Clark Craft boat-building kits. Students in the marine technology class at St. Croix Career and Technical Education Center have assembled the boats under the instruction of Frank Cousins.
The boathouse was built in 2007 through the generosity of Ursula Neuburger and Nick Castruccio.
FCB is within walking distance of Marley, Lagoon, and Harrigan housing communities and they want to see many of those neighboring youths enroll in the summer sailing sessions, said Susan Allick, a founder of the school, on Thursday. Allick's husband; Wilfred "Junie Bomba" Allick, Jr. is chief instructor and also a founder.
Registration will be from 9 a.m. to noon next Monday through Friday at the FCB Boathouse, which is between the Frederiksted Fish Market and Turtle's Deli.
The first session is July 19 through 30. The second session will begin August 2 and run through Aug. 13. Introductory small boat sailing classes will be offered in eight-foot Prams. Advanced small boat sailing classes will take place in fourteen-foot Sunfish. Classes will be from 9 a.m. to 3 p.m. Monday through Friday at the FCB facility at 36 Strand St. in Frederiksted.
Participant must join FCB as a junior member for a $10 annual fee. The tuition fee is $125 plus a $50 refundable damage deposit. Thus the cost for summer camp is $185, of which $50 is refunded if the student causes no damage to the equipment and completes the course.
For those older than 18 years, FCB will offer offering individual lessons. Adults pay a $75 annual membership fee and the cost of lessons will be determined based on the individual's experience level.
To enroll, students must be able to swim 50 yards, have sun protection, including hat and sunglass, and have appropriate swim attire and beach shoes. Life jackets are provided and are worn at all times while participants are in or on the water.
Instructors are trained by the U.S. Sailing Association and certified in first aid and CPR and all textbooks are included in the tuition fees.
Students should provide water and a lunch. Turtles Deli will sell sandwiches, a snack and drink at reasonable prices. The FCB is now a registered 501c3 nonprofit organization and this year's camp is made available due to charitable contributions from private individuals and corporations. Those wishing to make a donation can call Castruccio at 773-9633. Call 772-2482 for more information on the sailing program.