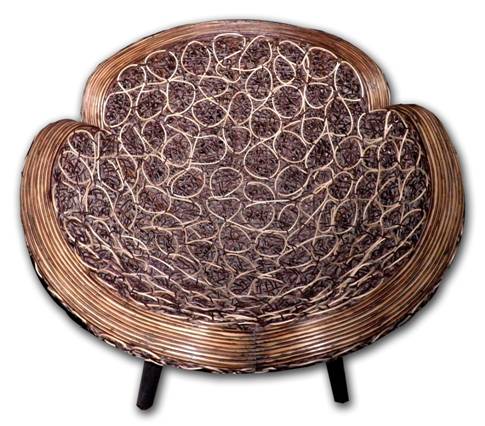 Furniture that is modern, functional, durable and eco-friendly is available now at Mango Tango. A new product line from Close Reach Imports epitomizes the evolution of the classic forms of sea grass, rattan and bamboo. The supplier has been excited about this past spring's buying trip to Bali. A Green Celebration is being held at Mango Tango's Home Gallery in Yacht Haven Grande. On view and for sale will be new designs in renewable and sustainable furniture. Each piece will be a great addition to any home. The designers in Bali were given the task of making new statement pieces. Those who have short-term rental properties, your guests will be talking about the unique furniture long after they leave. The images of such unusual furniture added to your Web site presentation will enhance the beauty of your villa or condo, while proudly displaying your eco-friendly choices.
The surprising feature of the furniture is its composition of 95 percent recycled and rapidly renewable materials such as bamboo, water hyacinth (also known as sea grass) and rattan, as well as reclaimed lumber from beached boats in Asia. The sweet simplicity of the furniture chosen belies the complexity in design.
Bamboo's hardiness is due to its tensile strength, which is 28,000 per square inch versus 23,000 for steel. It is one of the fastest growing plants in the world, and it has the capacity to readily replenish itself after reaping, provided that it is properly harvested. It can actually grow about four feet in under 24 hours; therefore, it is an eco-friendly alternative to hardwoods. Where oak takes 120 years to grow to maturity, bamboo can be harvested in three.
Calling the myriad of inland waterways throughout Indonesia home, the water hyacinth, sometimes called sea grass, is an abundant floating plant characterized by fragrant lavender flowers and shiny green leaves. It once plagued and congested shipping water ways. It is a natural product that won't easily stain and dries to its original color in hours. Sea grass furniture is a natural product that is suitable for use indoors or on a covered patio, but it cannot be left outside.
Rattan is one of the few truly renewable rain forest products and grows in the tree canopies of the rain forests of Southeast Asia. Rattan cannot grow without this forest atmosphere and so provides practical encouragement for harvesters to maintain the primary rain forest that rattan needs for growth. When it is harvested, it naturally re-grows. In short, rattan is truly self generating.
Join Mango Tango for the first showing of these new furniture designs and let us work with you for future home and rental property plans you may have. It is our pleasure to work with you and bring you special pieces you just will not find anywhere else. Additional new designs to choose from will be on display the week of the show.