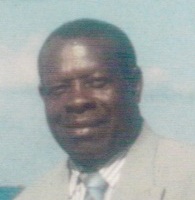 Emile Kenneth Lawrence, also known as "Kelly," of New Street, Frederiksted died on June 1. He was 69 years old.
He is survived by his daughter, Lister Veronica Lawrence-Johnson; son, Richardson Lawrence; sisters: Nelphise and Euphamie Lawrence; brother, Beloved Lawrence; son-in-law, Jason Johnson; aunts: Madeline Carbon Bruno, Maslyn Carbon Philogene, Eltina St. Rose and Martha Benjamin; and many nieces and nephews. He is also survived by cousins and other relatives: the Panthier, Alexis, Lawrence, Simon and Azille families, Hyacinth and family and Anni Rohlieck and family; special friends: Irma St. Val, Darwin Johnson, Henderson, Jacob, Francis Lartique, Philbert Valentine, Abbot Vidal, Patrick Carbon, Percy Ferrol, Francis Romain, Phillip Paul and Marie Allick; as well as other relatives and friends too numerous to mention.
A viewing will take place at 10 a.m. followed by a funeral service at 10:30 a.m. on Thursday, June 17, at St. Patrick's Catholic Church. Interment will be at Kingshill Cemetery.
All arrangements are entrusted to James Funeral Home Inc.