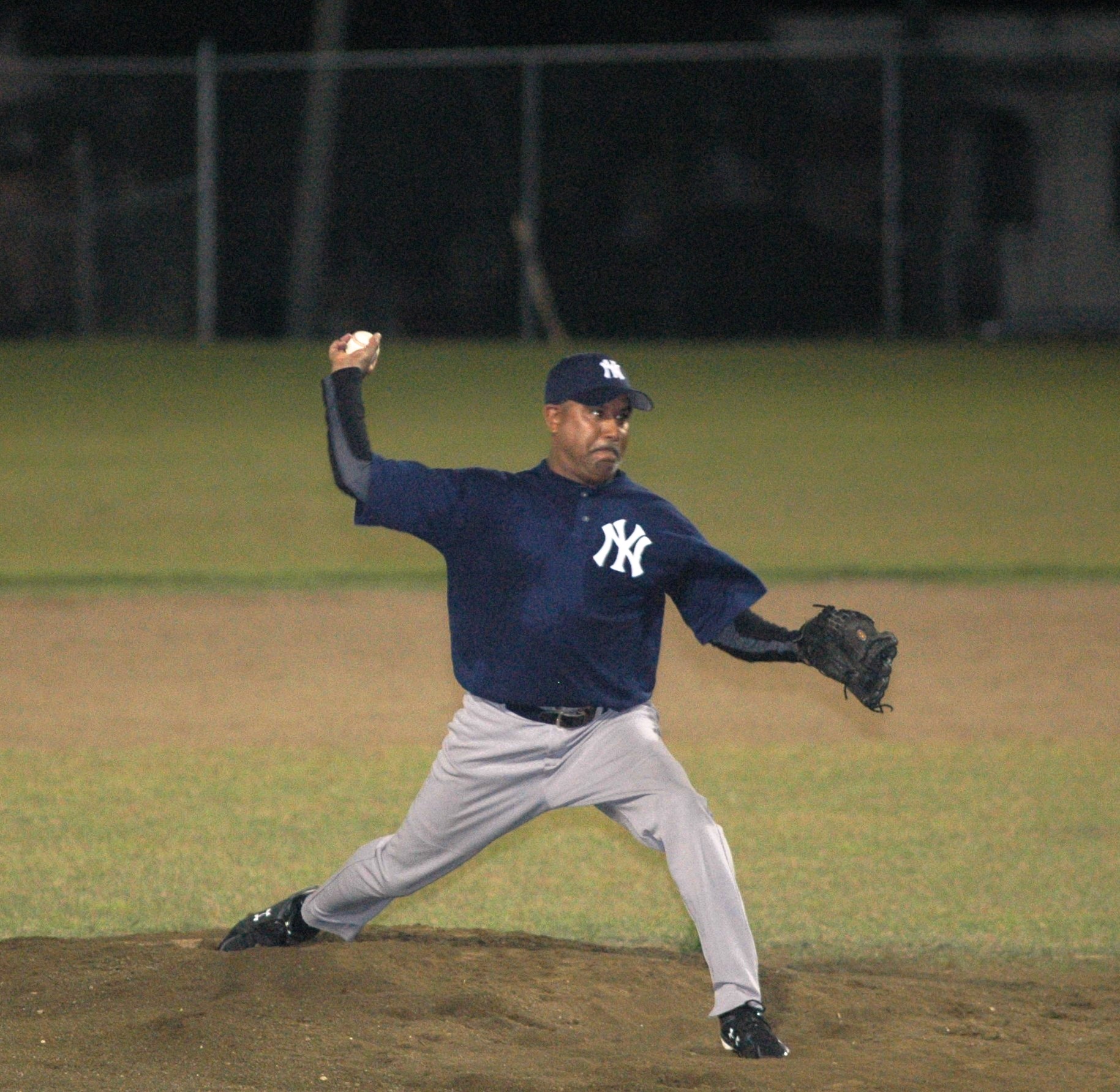 The Raphael Jackson AA Baseball League-leading Yankees jumped out to an early 5-1 lead Sunday night at the D.C. Canegata ballpark then had to withstand a late charge from the cellar-dwelling Cardinals to come away with their 12th victory of the season, 7-6. Veteran Malcolm McGregor, one of the league's oldest players, pitched six strong innings to pick up the victory before giving way to young lefty Christopher Joseph, who got the final three outs to pick up the save.
Kyle La Motta got the Cardinals on the board early with a solo blast high over the left field fence to give his team the early 1-0 lead. The Yankees responded with two runs in the bottom of the inning on a sac fly by Glenn Kiture and a passed ball to take a 2-1 lead.
After giving up the solo home run in the first inning McGregor settled down, retiring 11 of the next 13 batters he faced.
His offense, on the other hand, picked up three more runs in the bottom of the second on a two-run single by Mackeel Rogers and an RBI single by Leroy Simmonds, Jr. to extend their lead to 5-1.
The score would stay that way until the top of the fifth when La Motta delivered his second RBI of the game on a sharp single to left to bring his team to within three runs of the lead at 5-2. The Yanks again had an answer after a score by the Cards, coming up with two more runs on a two-run single by Khalid Gerrard to extend their lead to five at 7-2.
The Cardinals could have easily thrown in the towel against the powerful league leaders, but instead they rallied in the top of the sixth for four runs to close the gap to 7-6, putting a scare in the league leaders and their fans alike. They scored four runs on RBI singles by Fernando Quesado and Eric Flynn, an RBI double by Efrain Ramirez, and a sac fly by Leon Martin.
That would be all the scoring for the game as both team brought in their closers with time running out and the Yankees' Joseph, excepting one walk, was able to dispatch of the Cardinals in their final at bat rather easily.
Tony Peguero got the loss for the Cardinals. Top batters for the winners were Simmonds (2 for 4 with an RBI), Rogers (1 for 2 with two RBIs), and Gerard (2 for 3 with one RBI). For the Cardinals, La Motta was 3 for 4 with a home run and two RBIs, and Jeffrey Bryan was 2 for 3 with one RBI.