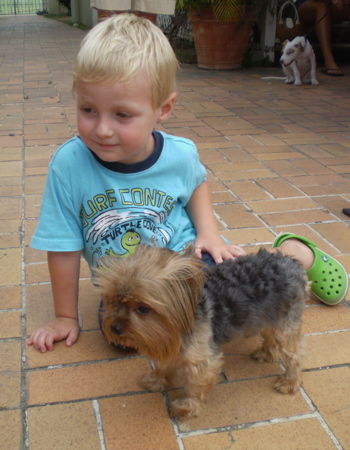 Everything was perfect at the Animal Welfare Center Sundae Funday Ice Cream Social and Pie Party Sunday, except for the occasional accidental puddle. Of course, at a pet-friendly event accidents like that can be expected and volunteers cleaned it up in seconds.
More than 100 kids with pets, adults with pets, and those who love animals socialized and satisfied their sweet tooth at the old-fashioned event to benefit the St. Croix Animal Welfare Center.
"This was a good opportunity for dogs to have fun with other dogs," said 7-year-old Anna Blackwood as she hugged her dog Chingy.
It was a picture-perfect setting in the courtyard behind Polly's at the Pier on Strand Street in Frederiksted. The surrounding quaint pastel colored West Indian buildings added to the old fashioned feeling. Kids and their dogs took part in an old-fashioned pupcake and cupcake walk around the courtyard.
Seth Wilcoxon and Steven Schawl, owners of Polly's, approached the center's board and offered to host an event on the west end. Donna Gay, AWC board of directors vice president, said organizers decided it was the perfect venue for the event. She added they hadn't done anything out west for a while.
"We hope to make this an annual event here," Schawl said. "It's great to have something like this to help alleviate the problem of abandoned animals."
A dozen luscious looking pies displayed on a colorful patchwork quilt that were raffled off. The pies in the silent auction were made by chefs David Trask of Good Spirits, Joseph Gerace of Tavern 1844, Bruno Mortizi from the Cultured Pelican, and Georgen Schuster from No Bones Cafe. This reporter had some pecan pie that was perfect, not too dark and not too sweet.
"This was another fine fundraiser for an excellent cause," veterinarian Paul Hess said. "The volunteers work extremely hard for our less-fortunate four-legged friends. "
Gay said volunteers donated two homemade pies each and the ice cream was donated by Island Dairies. Toppings for the build your own sundae bar such as sprinkles, cherries, nuts, coconut, caramel and fudge sauce were donated by Quality Foods and Steele's Smokes and Sweets.
Those interested can volunteer at AWC or obtain more information by calling the center at 778-1650 or Donna Gay at 277-4412, or by visiting the center's website at www.stcroixawc.org. Gay added that the animals at AWC are now listed on petfinder.com.
AWC promotes the humane treatment of animals in the St Croix community through education, encouragement, and enforcement.