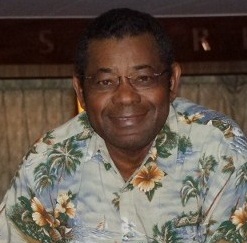 Francis Tobienne Sr. of Estate Cottage went to be with his Lord on Friday, April 9. The son of Mitchel and Josephine Helena Tobierre, he was born on the island of St. Lucia on May 7, 1947.
He is survived by his wife, Ana Maria Guadalupe de Tobienne; sons: Francis Frankie Tobienne Jr. and Alejandro Mitchel Tobienne; brothers: John Gilbert Hunt, Barthelmy Ferguson a.k.a. Frere Fantel, Moses James Tobierre, Paul Francis Tobierre and Nicholson Jn Batiste; sisters: Lucy Greaves Sasadad, Veronique Alexander Leotta, Armelle Mathurin, Melisa Patricia Lucien, Lucille Ooko and Theresa Barton. He is also survived by brothers-in-law: Angel Luis Guadalupe and Victor Manuel Guadalupe; sisters-in-law: Ana Elsie Saez Burnett, Ann Maguerite Bastien, Amelia Tobierre and Mary Tobierre; nephews: Joel Tobierre, Herman Tobierre, Bertin Greaves, Charles Gerald, Francis Mathurin, Moses Mathurin, Edmund Mathurin, Wade Eugene, Chrristamothy Eugene, Jonas Eugene, Everistus Johann Alexander, Curtis Alexander, Augustin Bastien, Felix Ferguson, Andrew Ferguson, Benny Ferguson, Julius Ferguson, Shemroy Ferguson, Victor Luis Guadalupe, Victor Manuel Guadalupe, Pablo Juan Corcino, Jose Julio Saez, Manuel Rosa and Jose Rosa; and nieces: Fannie Tobierre, Patricia Tobierre, Natalie Tobierre, Brenda Bastien, Gladys Bastien, Martha Lilin Clarke, Fedelis Charles, Bona Harris, Renica Micheau, Sophia Alexander, Laura Alexander-Marquis, Ruth Eugene, Rebecca Norlay, Martha Eugene, Vernita Ismael, Sabina Modeste, Curlin Hudson, Emma Emmanuel, Nolly Tobierre-Elie, Jasmin Tobierre-Renard, Zilka Tobierre, Deseara Tobierre, Nevlene Tobierre, Emma Curry, Pamela Thomas, Patricia Hall, Dorcas Oquendo, Norma Ventura, Angela Montes, Sandra Saez, Marivel Saez, Monica Martinez, Flora Saez Davis, Christi Saez and Celinez Saez; as well as many other relatives and friends.
A viewing will be held at 10 a.m. followed by a funeral service at 11 a.m. on Saturday, April 17, at Sunny Isles Baptist Church. Interment will be at Kingshill Cemetery.