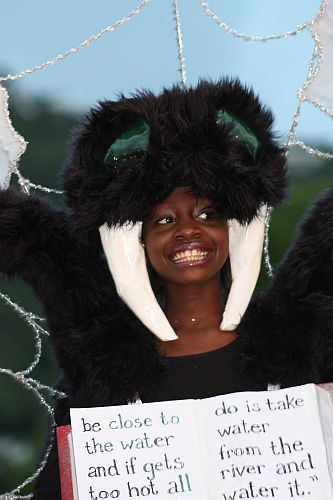 Instead of waving their hands, the packed crowd at Lionel Roberts Stadium Sunday waved their umbrellas up and down to show Carnival officials that they were having a good time despite the heavy rain showers that tumbled down throughout this year's Carnival Princess Selection Show.
The stadium was more filled than it had been in previous years, with bodies filling the stands and the field. No one appeared to even notice the rain, as they simply popped open their umbrellas while watching the show, standing in line for food or dancing in front the stage as Sweet-Ta' Band picked up their microphones to perform.
Crowd members also did their part to encourage the contestants, wearing colorful shirts emblazoned with the name of their favorite princess and screaming at the top of their lungs whenever one of them appeared on stage. Like last year, there was no prince contestant, but that didn't seem to be a problem as the three young ladies vying for the title showed off enough poise, talent and beauty to fill the night.
The favored contestant was nine-year-old Jikelle Michaels, whose supporters were decked out in hot pink or deep purple shirts and waving blue pompoms that corresponded with the colors of her outfits. Michaels cleaned up Sunday, taking the crown along with the awards for Best Cultural Costume, Best Talent and Best Evening Wear.
With cheers ringing through the stadium, Michaels stepped out on stage during the Cultural/Historical Costume Competition dressed as Anansi the Spider, whose stories are passed along from generation to generation by local culture bearers. Portraits of some the community's more popular storytellers, such as Lois Hassell-Habtes and Glen Kwabena Davis, were displayed across a glittering sliver spider-web that framed Michaels' costume.
During the talent competition, Michaels told the audience how she plans to celebrate this year's Carnival theme, "Bacchanal Again for 2010." Dressed in a shimmering blue and silver dance costume, the Lockhart Elementary School student raised her baton high, twirling it expertly around the stage as she danced to calypso music.
She had the audience on its feet during the evening wear competition, as she glided across the stage in a tiered blue gown, her long curls bounding down from a delicate tiara crowning the top of her head. According to the announcer, Michaels was Disney's newest princess – a Caribbean special-edition doll finally unveiled to the world.
She kept that theme alive when it came to the question-and-answer segment, where she told the audience how she would describe to President Barack Obama's two daughters what it's like to grow up in the U.S. Virgin Islands.
"Growing up in the Virgin Islands is a wonderful experience, and there is always something fun and exciting to do, like participating in our Carnival and visiting our beautiful beaches," Michaels said.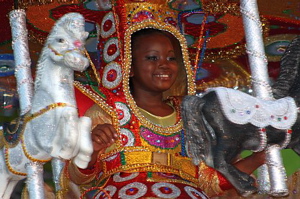 Picking up two awards, including Miss Photogenic, nine-year-old Aseeda Freeman had the crowd in awe as she emerged for the Evening Wear Competition in a custom made light-pink gown, dotted with glinting crystals.
Freeman's cultural costume paid homage to one of the season's time honored traditions – the opening of the Carnival Village, where children and adults alike flock to the rides night after night. The applause grew loud as Freeman walked out dressed as a gold and red carousel, with moveable horses that she twirled for the judges.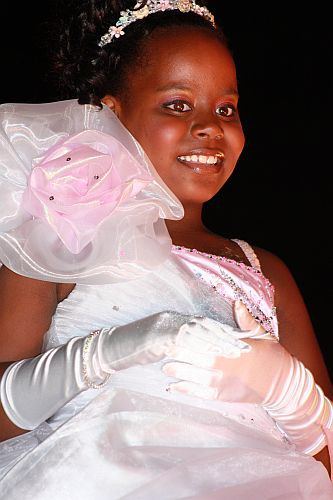 Miss Congeniality and Miss Intellect went to eight-year-old Ne'zhai Harrigan, whose stand-up comic routine during the Talent Competition had the audience falling out of their chairs. Role-playing as the popular movie character Madea, Harrigan poked fun at some of St. Thomas' more well-known police officers and tied a few of her jokes into some local calypso songs.
When she told an anecdote about an encounter with a waitress at Victor's Hideout, for example, she balled up her fists and started to move around to JDPP Jammerz' "Push It," to illustrate what would happen if the waitress pushed her luck.
Harrigan showed her serious side during the question-and-answer segment, telling the audience what her dreams for the territory are.
"I dream of non-violence for our islands, because the essence of non-violence is love," she said. "And love is the only thing capable of transforming an enemy into a friend."