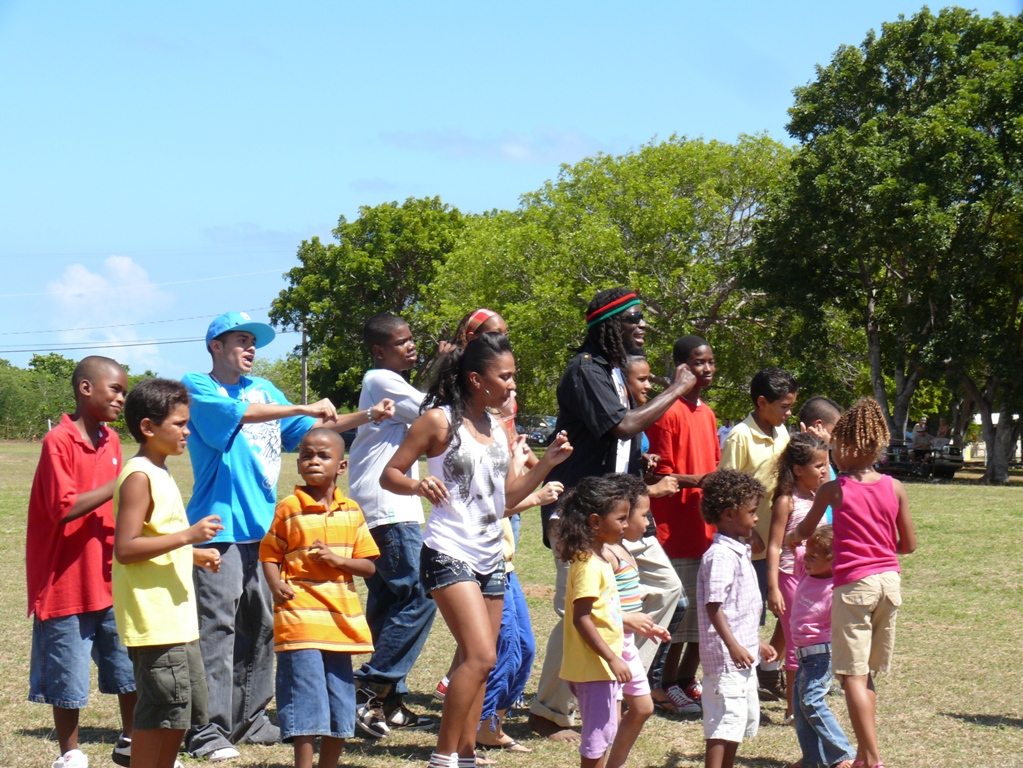 This past weekend St. Croix kids ages five to 17 got some hands-on experience singing, dancing, acting and working on production for a music video of an original new socially conscious song entitled "Be You," by international reggae vocalist Toussaint.
Award-winning St. Croix documentary film maker Johanna Bermudez-Ruiz shot the video over three days on the sun-drenched fields at Good Hope School, Ham's Bluff, the V.I. Sustainable Farming Institute and other locations against the backdrop of St. Croix's brilliant sunsets, pristine sea shorelines, forests and verdant fields.
Song and video revolve around a father-daughter conversation where Toussaint is encouraging his daughter to be herself no matter the challenges she may face as she journeys through life. It has an upbeat message designed to promote self-esteem and a healthy spiritual attitude toward life. It is the first track on an upcoming solo CD, "Roots in a Modern Time," produced by Laurent "Tippy" Alfred of St. Croix's I Grade Records.
For nearly a decade, Toussaint has leant a husky, powerful tenor to countless groups: the hip-hop outfit Red Pill, his own China Band, and most notably for two years to Stax and Blue Note recording artists Soulive.
He has also shared the spotlight with the Rolling Stones, Isaac Hayes, Burning Spear, Freddie Mcgregor, Ozomatli, The Everyone Orchestra, the Dave Matthews Band, John Legend, Me'Shell Ndegeocello, Ivan Neville, Barrington Levy and even Wyclef Jean.
Raised in Indiana with a Baptist preacher for a father and a talented gospel singer mother, Toussaint sang in churches from a young age in a group with his siblings. Later, while at Earlham College in Richmond, Ind., Toussaint led the Gospel Revelations Choir but also got secular at local dives.
"My first album was called 'Funkbox' with a band named Six Dollar Cleveland," Toussaint recalled with a laugh, while taking a lunch break from the video shoot Saturday. "We were a jamband like Phish, but with good singing," he said.
He later moved to the east coast.
"I came to Boston in 2001with a bus ticket and $200 and said you know I'm done with Indiana," he recalled. "I was the only one with dreads in my home town. Police would pick me up just for walking with dreadlocks. I had to leave."
Asked about his musical influences, Toussaint cited Sam Cooke, Marvin Gaye, Otis Redding, Isaac Hayes, Mavis Staples and "anything on the Stax label," among others. In reggae, he favors roots and conscious music that has a message.
"My attraction to reggae is the meaning of the lyrics," he said. The title track "Roots in a Modern Time," is "kind of a nod" to reggae artist David Hines, he said.
Toussaint says he tries to convey a positive message with all his songs.
"If you want to hear about shaking your booty or how it is in the ghetto, you can listen to somebody else," he said. "I listen to all kinds of music, but to write and play, that's not my bag. My songs may be just as angry, but they will be framed in a way that my daughter can listen to it."
His five-year old daughter, Inari Jade, dances in the video.
This is Toussaint's fourth trip to St. Croix. The first three were on tour with Soulive. During the last tour, this past January, Toussaint met up with Alfred.
"I knew of and respected I Grade Records, but we missed each other on my earlier trips, he said. But this past trip, they met up and decided to work together.
"For four days after performing in concert I would go to the studio and we would record all night," he said. "The only thing that kept me going was the blue green algae (juice drink) at the Kalima Center. Superbowl Sunday was the last night, and we worked from 11:30 at night to 10:30 the next morning. I made it to my plane by the skin of my teeth, but we got 12 tracks done. It is a blessed thing. … It has never been as easy as it was with Tippy."
While artist Elisa Mckay braided his hair for the video during the break, Toussaint and a group of students from Good Hope School and other area schools sat in the shade and practiced singing a bit, with Good Hope students Gloria Morales, Eliza Mongeau-White, Paul Arnold, Millie Baur, Carlos Matos, Daryl and Jalen Jean Baptiste singing the chorus under his direction.
When lunch was over, Bermudez-Ruiz rounded the group up, taking them into the Good Hope field for a series of shots of Toussaint and the kids singing, laughing, dancing and running.
During and between shots, the filmmaker would give directions on how to move, who should start where and so on while Cortez McKay, the mastermind behind the splicing and graphics of Bermudez-Ruiz' recent documentary "Sugar Pathways," operated the boom camera with some student help. Sunday, the group finished up shooting at the V.I. Sustainable Farming Institute.
Some of the other students acting, dancing and helping with production included: Ashley Garcia, Kenyon Jean Baptiste, Soleil Cedano, and Saba and Isehai Alfred. Look out for the video's premier in the next few weeks.