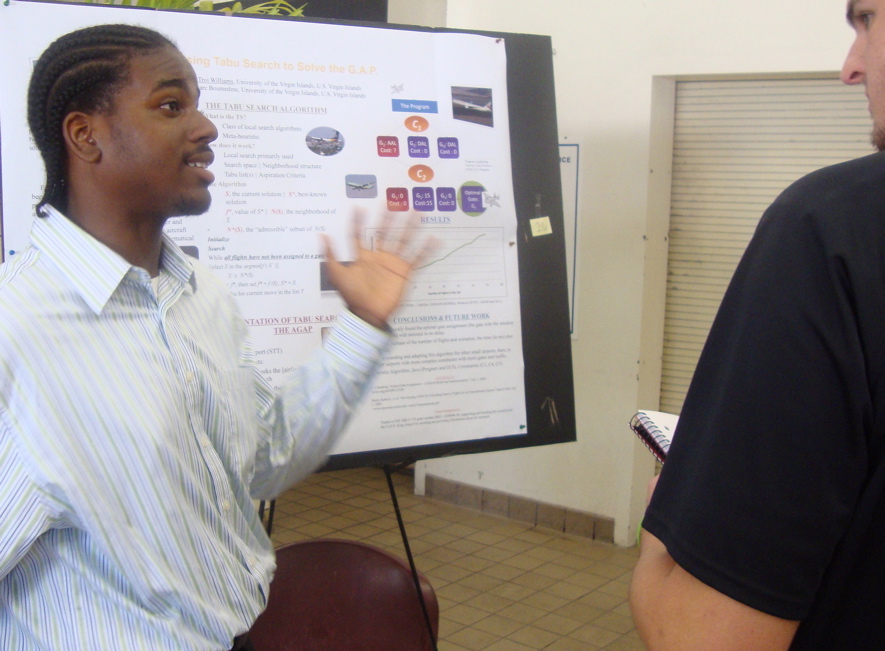 The future is in good hands. A stroll through the eighth annual Spring Research Symposium Saturday at the UVI St. Croix campus was a panacea for anyone exposed to a constant stream of news indicating that "kids today" are just a bunch of slackers, troublemakers and video-gaming gangsters.
The 26 UVI students from St. Thomas and St. Croix whose work was on display Saturday are smart – so smart that often even the titles of their projects were incomprehensible to the average layman walking through the hall – oh, say, a news reporter, for instance.
The work displayed covered an impressive array of sciences – mathematics, computers, biology, chemistry and statistics.
At one display, for example, 20-year-old chemistry major Michael Celestine was explaining his project: "Tracking GABA-ergic Neurons in the Nervous System of the Caribbean Spiny Lobster."
As everyone but this reporter in the cafetorium understood—at least it seemed that way—GABA (gamma-aminobutyric acid) is a neurotransmitter found on both invertebrates and vertebrates. It acts as an inhibitor in neuron receptors.
His project involved how GABA is projected in the layer of nerve cells over the stomach area of the spiny lobster, mapping to see where GABA is being created and transported. He apparently found it, and said we now know "where GABA is being created and stored."
While it all sounds rather esoteric, it actually might have some direct application down the line as a path to understanding neural problems in humans, such as epilepsy. At least that's what it seemed like Celestine was saying.
As for Celestine, he's planning to pursue a doctorate in chemistry and hopes to work in the field of medical chemistry.
Troi Williams' project, "Using Tabu Search to Solve the Gate-Assignment Problem," seemed to offer more hope to the scientifically uninitiated because it was grounded in a common experience. The "gate-assignment problem" is something any air traveler is likely to have been through – long dashes to transfer between two flights that have been assigned to gates at opposite ends of the airport.
With the number of airline passengers growing at about 10 percent a year, airport gate assignment, which seems to the weary traveler to have been determined by malevolent spirits, can result in long delays and feverish rushes, costing airlines money and passengers patience.
Perhaps, suggested someone looking over the project, Williams had solved the problem, and air travel would now be more relaxing than a sauna, more fun than Disneyland.
No, Williams quickly said. What he had done was apply a particular search algorithm to several facets of the problem and found that it drastically reduced the amount of time needed to calculate the ideal gate assignment, from several minutes to hours for more complex variables, to milliseconds on the computer. He used the Tabu algorithm because it is "multi-heuristic," he said, with a tone in his voice that implied, "of course."
The listener responded with a blank look, and then a long, drawn out, "Ohhhhhh."
Williams, a 20-year-old computer sciences major, presented the project at the Historically Black Colleges and Universities Undergraduate Program convention last fall in Washington, D.C., where it won an award.
And then there was Cherisse Tyrell-Boateng, a 20-year-old UVI senior in biology, and her project, "Can a Conserved Regulator for Fungal Morphology Propagate as a Prion?" It turns out that after her study, which she did last summer at the University of California at San Francisco, she's still not sure, but she knows "why" she's not sure, which in science is often as important. The project has something to do with yeast.
In answer to a direct question about how she "got so smart," Tyrell-Boateng said she has always been a reader.
"Just a lot of studying and scientific papers and reading," she said.
She is waiting to hear from post-baccalaureate programs she has applied to, with the ultimate goal of achieving her doctorate in biology.
Indira Turney's project, "Mate Selection in Young People," had one finding that might be of interest to all the participants in Saturday's symposium. Among her findings were, "men were more likely to prefer an ideal marriage partner who had a high level of education." None of the participants Saturday had anything to worry about on that score.
The winners of the symposium will be announced Wednesday. The Spring Research Symposium is organized by UVI's Emerging Caribbean Scientists Program.