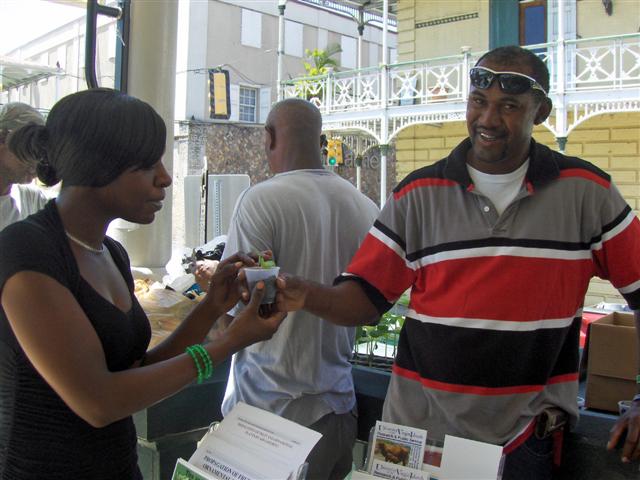 Small gaggles of tourists, lots of local folk and a great big gaggle of school children – 100 strong – came to "Market Day" at the Sanderilla Thomas Bungalow in the Rothschild Francis Square Tuesday to celebrate the island's produce.
The morning brought back memories of the bustling market of years ago. These days that market still occurs on Saturdays, but without the energy of its previous incarnations. Tuesday had that energy, beginning with the steel drum melodies of Glen Samuel out front inviting one and all with a tap on his drum, a bit of a tune, and a big, welcoming smile.
Farmers' stands lined the bungalow, filled with everything from bright yellow and orange squash, to brunches of dark green kale, purple and black eggplants, bottles of local honey, fresh eggs, organic chickens, bottled sauces, tamarind candies, tiny, sweet grape tomatoes, and, of course, Jambie's famous pumpkin soup.
Sweetman Charley Leonard had dozens of eggs in varied brown hues, which usually on Saturdays go before 6 a.m. "The Rhode Island Reds are laying," he said, "about a hundred a day now."
Busily hawking honey from St. Croix, Agriculture Commissioner Louis Petersen stood toward the front of the bungalow. Reaching into one of two cartons, he explained the wild honeys of Honeyman Roniel Allenbert to a small crowd. "This one has bee pollen added to it," he said. "It contains all the essential amino acids the body requires – it's good for the immune system."
The other is just plain honey, which is good for anybody with a hankering for something wonderfully sweet.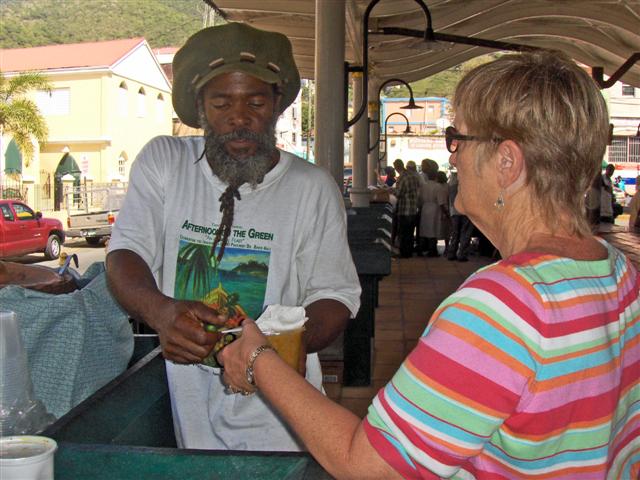 Petersen said, between sales, that the Department of Agriculture, which with the Department of Tourism sponsored the day, has three goals: "to make people aware of the availability of local produce, to support the farmers and recognize their hard work, and to tap into the youth in the community, not just to make them aware, but to involve them."
To this end, three schools had been invited to the market. Petersen said later in the day that only one school had been able to make it, but Leonard Dober Elementary School more than made up for the others.
"We had about 100 kids," Petersen said. "The children interacted with the vendors, they saw the demonstrations, the box garden displays. We gave them tokens of appreciation. They all left with herbs and herbal teas."
Actually, with the guidance of Albion George and other Agriculture Department counselors, many of the schools on the island now produce their own gardens.
While Dorothea farmer Charles Barry, who said he raises bees and peppers, drew a crowd talking about the life of a bee, with a hive filled with hundreds of bees, Ashley "Ashanti" George held forth on the other side of the bungalow with a mango-grafting demonstration.
Agriculture representatives Ramsay Xavia and Roy Caine were busily distributing cups of little green seedlings to anyone with an eye for growing. Glendora Husband was more than appreciative. The potential gardener said, "I'm on my lunch hour, but this is so important. We need to plant our own food, to live in a healthy way, no chemicals, all natural."
Eyeing her new acquisitions, she said, "I'm going to take my basil, my celery and my cabbage and plant them. It's an excellent way to start my plot."