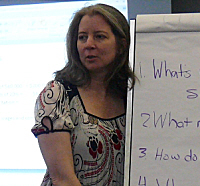 It costs fewer taxpayer dollars to give the chronic homeless long-term housing than to leave them on the street and pay for police, prisons and hospital emergency rooms to deal with them, experts said at a homelessness training session Friday.
The V.I. Interagency Council on Homelessness, a coalition of government agencies, nonprofit organizations and faith-based charities, held the training session at St. Croix's Buccaneer Hotel to get the diverse organizations thinking and working on the same page. Martha Are, homeless policy specialist for the state of North Carolina, led the session, sharing the latest data on the most effective strategies and getting participants to brainstorm together on several programs, discussing and listing the assets, obstacles and resources needed to carry them out.
Are has worked with many North Carolina communities, helping them form and update 10 year plans for addressing homelessness, and one goal of the training session was to begin updating the 10-year plan the territory adopted during the administration of Gov. Charles Turnbull.
Here in the territory and in communities across the U.S., chronic homelessness is the most difficult and complicated to address, and though it seems counterintuitive, doing nothing is the most expensive route.
"The biggest factor in how expensive it is, is where they stay," Are said. "Keeping people in institutions is very expensive. Having people living on the street is very expensive. Permanent housing is the least expensive."
Are and Human Services Commissioner Chris Finch said having a population living on the street is very expensive because the homeless use vastly more public resources. Police have to respond again and again for the same individuals, for public intoxication, minor crimes and incidents arising from mental health issues — all costing man-hours of time. They end up spending time in jail, costing many times the rent on an apartment. And with no regular health care and all manner of health problems, they wind up in the emergency room; by far the most expensive way to provide health care.
"Often, because we are missing pieces of the puzzle, people are kept in a much more expensive setting," Finch said. "Emergency shelters filled longer-term people, hospital beds used for long-term care; we have a lot of examples of that in the territory. … Because of a lack of less expensive options, we keep people in very expensive facilities."
The chronic homeless are the most visible, but are not the whole picture. On any given day, the majority of those with no place to stay are those with combinations of chronic substance abuse, mental health problems and disabilities. Those, Are said, will need long term support as well as a place to stay. But if you look at everyone who has been homeless over the course of a year, the vast majority; 75-80 percent will be homeless less than two months, she said. Usually, those folks have just had some sort of economic crisis, causing them to be evicted. Often a medical crisis precipitates the economic crisis.
People leaving jail, youth correctional facilities, hospitals and other institutions are more likely to face homelessness, so programs taking this into account, preparing people before leaving and following up afterward, can reduce the risk, she said.
Identifying "serial inebriates" and focusing attention on them is effective too, she said. Public intoxication is a minor offense and serial offenders get picked up again and again. But a San Diego program gave progressively longer sentences, each time giving the "serial inebriates" a choice of jail or an equal time in treatment. As time went on, many of the offenders got treatment and either cleaned up and got off the streets or improved and became more functional. And it helped identify those with more serious problems.
"Of those who chose jail, by the time they got to 180 day sentences, they were clean for a length of time and usually a mental illness was identified, so they could begin to look at treatment," Are said.
In the past, the way housing has usually been offered was to require the homeless to meet a list of requirements, from staying clean and sober to personal hygiene, then offer housing. But that gets the cart before the horse, in that many cannot meet those requirements when on the street, but some can if they have a place to live, she said.
A program in Seattle, Wa. identified the 75 homeless people who had the most frequent use of police and emergency services. They put all 75 into permanent housing at 1811 East St. and the tenants did not have to agree to quit drinking and using to move in.
"After six months, there was a 63 percent reduction in the costs associated with crisis alcohol services," she said.
On a small scale, similar efforts are being tried in the territory and the members of the Interagency Council plan to increase that focus. Richard "Sky" Gomez runs the Bethlehem House shelter on St. Thomas and works with several organizations on the issue. Catholic Services of St. Thomas asked Gomez, who was homeless himself at one point, to get housing for one man who had been living on the streets for 23 years and had become familiar to the whole town.
"When I gave him the keys and went to leave, he followed me out," Gomez said. "It took six or seven weeks before he was sleeping there. But now, after 23 years, he is off the street."
Finch said direct aid to the chronic homeless would be a major short term focus for Human Services and the Interagency Council. Working on chronic homeless like that fellow will create a visible impact, reducing the numbers of people residents see in the street, hopefully helping to persuade public and private organizations to support their efforts more.