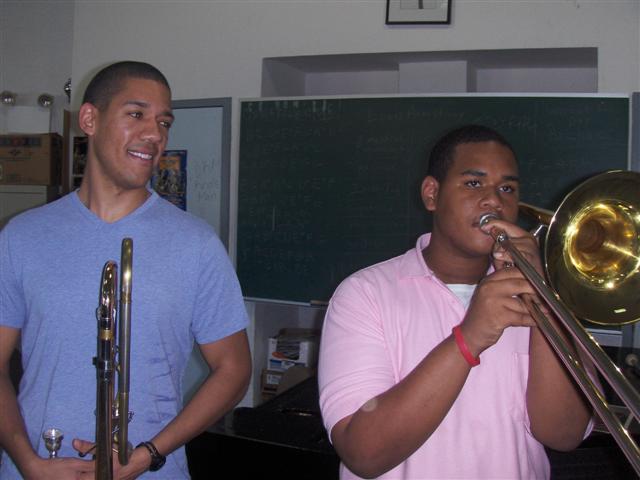 Four high school music students spent Wednesday afternoon in some pretty exalted company. While noisy traffic buzzed by outside Charlotte Amalie High School, the four sat in the relative quiet of the school's music room, under the tutelage of renowned professional trombonist Weston Sprott.
A quick study, Sprott was appointed to the position of second trombone in New York's Metropolitan Opera Orchestra in the spring of 2005, when he was 22 years old.
He will be featured in a recital at the Frederick Evangelical Lutheran Church at 7:30 p.m., Saturday, accompanied on the piano by noted local musician Gylchris Sprauve, who sat in on Wednesday's class
Sprauve said, "Weston has a heart for inspiring young people, and so he readily agreed to lead master classes in trombone and other lower-brass instruments during the week leading up to the concert."
Clad in jeans, T-shirt and sneakers, Sprott put the students at ease, while getting to the heart of the matter right away. "What is the most important element in music?'
The four were silent, until student Oswald Baptiste ventured "rhythm," which elicited a big nod from Sprott. "Music is nothing without rhythm, you can have great pitch, great tone, but you've got to have rythym," Sprott said.
And you've got to practice, a truth Sprott kept drilling—nicely but emphatically—into his audience all afternoon.
He then called CAHS senior Jav'er Mills to the front. Mills plays a valve trombone, which he switched to about four months ago from trumpet. After Mills began on a piece, Sprott corrected his timing.
Snapping his fingers, Sprott had Mills put down his instrument and hum along with music in front of him, as he snapped out the beats. "Count the rhythm on the page," he instructed. He had Mills run through the scales with him five times.
"Now," he said, "do you see how much better the fifth time was?" Mills and the class agreed. He then recited another truth: "If you practice slow, you progress will be fast; if you practice fast, your progress will be slow."
The students nodded their heads, as though they'd never thought about that before.
"You will develop muscle memory," Sprott said. "You will remember, and your batting average will improve. Practice long tones, lip slurs, you must connect the notes, none of the no-man's-land in between."
Juan Martinez, a freshman at Ivanna Eudora Kean High School, who had attended Tuesday's class, was filled with questions. And so was Sprott.
"Do you remember what we talked about yesterday?"
Silence.
"Two fingers and a thumb," reminded Sprott. He borrowed a penny from Sprauve to illustrate the point.
"Here," Sprott said. "Hold this and don't let it slip. Be quick, but don't hurry." He spoke about the importance of the air stream "going through all the notes." Illustrating his point, he had Martinez blow into his hand as though it were his instrument. "Pretend you are blowing at a pinwheel, you don't want it to stop, but you don't want it to go too fast.
"Music is about connected phrases," Sprott said, "like talking. You wouldn't say one word at a time in a sentence, stopping between each word."
Martinez persevered with his breath, holding his notes together as best he could, repeating scales again and again, until Sprott gave a signal of approval. "You don't want to play fragments, blow all the way through," he instructed.
When Sprott picked up his Edwards trombone and let loose a few times even playing a jazz riff, the room became silent. The students knew authority when they heard it.
Martinez wanted to know how to tell when you were flat or sharp. "You could get a tuner, and clip it to your horn," Sprott said, "but with practice, you'll be able to tell. It's easier to know a flat, it's dull, obvious," he said, playing a flat anyone could pounce on. "A sharp is a little too brittle, it's harder to tell."
Martinez wasn't through yet. "What tips do you have for playing in a marching band?" he asked.
Sprott was patient. "Remember what we discussed yesterday? Knees below the waistline, or you collapse your posture."
Then, everybody got a treat. Sprauve and Sprott played a piece from Saturday's upcoming performance, the second movement of Jacque Casterede's "Sonatine."
The students sat, attentive if not spellbound, to the beautifully played piece. After a moment, they gave the two a big hand and big smiles.
Though they opted to listen rather than play, the other two students, Baptiste and John Gumbs II, appeared to absorb the lesson, leaving the performing to others.