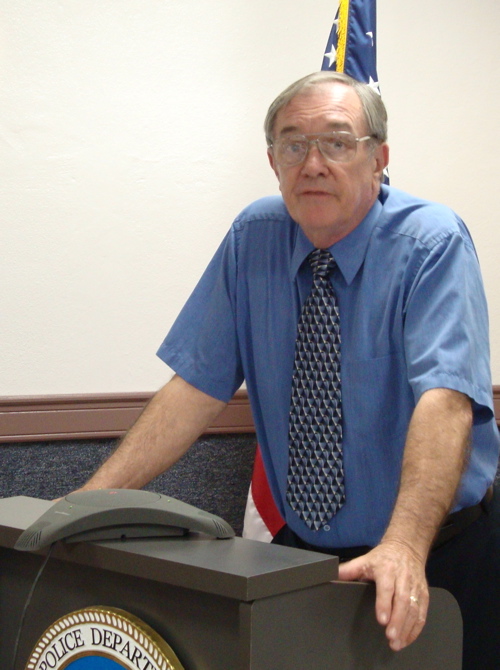 V.I. Police Lt. Thomas Hannah knows firsthand whether the Crime Stoppers USVI anonymous tip service is working—as the police coordinator for the St. Croix district, he's on the receiving end of the tips that have come in, and they keep him busy.
"I didn't think I'd be working as hard as I work," he said Monday at a press conference marking Crime Stopper's one-year anniversary in the territory.
Hannah said he's on call 24 hours a day, seven days a week, to receive tips when they come in. If it's something that needs action immediately, he has had to drop everything to track down the detective on a case to get him the information.
Once, on a Saturday, he received a tip in the evening and got the detective on his cell phone.
"I asked him where he was, and he told me he was at a restaurant. I told him, 'Stay right there, don't leave. I have something for you.' That tip led to the arrest of three individuals," he said.
Crime Stoppers USVI Chairwoman Judy Fricks said that a year ago she had been advised by the national group to expect about five tips a week initially.
Monday she reported that the group had actually received 508 tips in the first year, about double the original estimate, and that those tips have resulted in 75 arrests, which, she says "we're really excited about."
The tips also resulted in 172 charges being filed, $13,500 of stolen property being recovered, $38,950 in drugs being confiscated and 40 weapons being seized, according to figures released at the press conference.
People who call the phone line can earn rewards if the tips result in arrests and prosecution, but that doesn't seem to be the primary reason people call in, according to Alan Brown, another board member who spoke Monday.
According to Brown, 15 percent of the callers say right up front that they don't care about the money, "they just want to get the guy off the street."
In its first year, Crime Stoppers USVI authorized 59 rewards totaling $47,601. But of that, $14,514 still hasn't been paid out yet, and another $13,600 has expired – if the awards aren't paid out in six months the money is returned to the Crime Stoppers' fund.
People are often afraid to contact the police or even Crime Stoppers because they're afraid of retribution. But with Crime Stoppers, anonymity isn't just a promise, it's built into the system, Brown and Fricks explained.
When a person calls the 800 number to report a tip, the phone doesn't ring in the Virgin Islands. The call goes to Virginia, where the "Caller ID" data is stripped out before it is then routed to a switchboard in Houston. From there an operator takes the tip and gives the caller a personal identification number. The information is then forwarded by computer to the Crime Stoppers V.I. volunteers, who pass it on to the police. So even if anyone along the line wanted to find out who called in the tip, he couldn't because that information is simply not available.
Similar electronic screening assures the anonymity of people who register tips through the group's website.
For that reason, Fricks and Brown couldn't say, for instance, whether they have received 508 tips from 508 individuals, or from 10 people calling about once a week, or anything else about the people who contact Crime Stoppers.
While Crime Stoppers USVI is happy with its first-year successes, Fricks said they have a long way to go. The first thing they need is more members – lots more members.
It takes about 1,200 members paying annual dues to sustain the group over the long term, she said. Right now they have a little over 200. Everything in Crime Stoppers USVI is done by volunteers; there are no salaries. Virtually the entire budget is for rewards. About 50 volunteers performed more than 7,000 hours of duties for the group.
St. John's has a small but extremely active and dedicated core group, Fricks said, but St. Thomas and St. Croix both need more volunteers.
To celebrate the first anniversary of Crime Stoppers USVI, a series of activities is being planned. National chairman Thomas Kern, a 24-year police veteran from Indianapolis, and Crime Stoppers president Tami Lawlor will visit the territory beginning Saturday for the events.
The public part of the schedule is:
Saturday: 6 to 8 p.m., reception at the St. Croix Government House for Crime Stoppers members, their guests and invited dignitaries.
Tuesday: 6 to 8 p.m., St. Thomas reception in the courtyard between the Farrelly Justice Complex and Superior Court in Charlotte Amalie for Crime Stoppers members, their guests and invited dignitaries.
Wednesday, 6 to 8 p.m., St. John reception in Cruz Bay for Crime Stoppers members, their guests and invited dignitaries.
The visiting officials will also hold a series of appointments with the press.
Anyone who has information on any crime in the territory that he or she would like to report can call the toll free number, 1-800-222-8477, or can go online to the group's website at www.crimestoppersusvi.com.