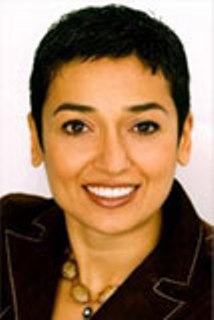 Zainab Salbi, a world changer, will speak at 8 p.m. on Thursday, Jan. 21, at Prior Jollek Hall, Antilles School Campus. Salbi was born in Iraq. When she was 11 years old, her father was chosen to be Saddam Hussein's personal pilot. When she was 20, her mother sent her to be married and live in America to escape the clutches of Saddam.
In the early 1990s, newlyweds Zainab Salbi and Amjad Atallah, a
Palestinian-American, were deeply moved by the plight of the women of the former Yugoslavia, many forced into the infamous rape and concentration camps. They wanted to volunteer to help, but were unable to locate an organization that addressed these injustices and egregious wrongs.
In lieu of a honeymoon, Salbi and Atallah launched an organization that created "sister-to-sister" connections between sponsors in the United States and women survivors of war in Bosnia and Herzegovina. They were greeted with an overwhelming response.
A survivor of the rape camps who had lost her husband and children during the war said, "I thought the world had forgotten us…."
Women for Women International was started with a shoestring budget and a small team of dedicated volunteers. Since 1993, the organization has supported women survivors of war in Bosnia and Herzegovina, Rwanda, Kosovo, Nigeria, Colombia, Afghanistan, Iraq, Democratic Republic of Congo
and Sudan. It has assisted more than 120,000 women, distributed more than $33 million in direct aid and microcredit loans, trained thousands of women in rights awareness, and helped thousands more to start their own small businesses.
"It is Zainab's connection to the Peter and Patricia Gruber Foundation that has allowed us to host her presentation here. Zainab served on the advisory board that selected the Women's Rights Prize recipients from the year the prize was first award in 2003, through 2008," said Neil Prior, chairman of the Forum.
Tickets are $25, which includes a $10 donation for Women for Women International.
Tickets for teachers are $10 and free for students with ID. They can be purchased at Reichhold Center for the Arts (693-1559), Dockside Bookshop, Interiors (Fort Mylner) and Home Again (Red Hook Plaza).
For more information, call the Forum at 693-4350.