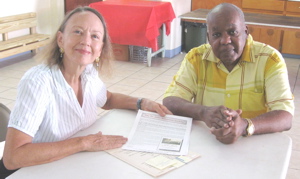 Ten years worth of newsletter articles about St. John history convinced the St. John Historical Society to publish a book about the island's history and culture.
"St. John – Life in Five Quarters" will be out within the next few months, but the Historical Society is preselling copies to raise printing funds.
"It has first-hand accounts from the 1800s through the present times," Historical Society President Robin Swank said.
The five quarters refers to the five administrative districts of St. John – Cruz Bay, Maho Bay, Reef Bay, Coral Bay, and East End Quarters.
Historical Society member Elroy Sprauve called the book an important resource for anyone who reads it but particularly in sparking interest in further research on the book's topics.
"There's a void of historical material around," he said in discussing the importance of this book.
In addition to numerous early postcards reprinted in the 200-plus-page volume, "St. John – Life in Five Quarters" includes seven chapters worth of articles by a variety of writers. For example, Sprauve writes about his memories of Estate Sieben and Mollendahl, an area located on the island's south side between L'Esperance and Reef Bay. Sprauve was born at Estate Sieben.
"There is a chilling story of a murder here at Reef Bay in 1937; a man killed Anna Marsh. Rumor has it that he passed by Sieben and wanted to do harm to my father also," Sprauve writes.
St. John resident Eleanor Gibney writes about fever.
"For centuries, inhabitants of these islands suffered agonies of severe and recurring fevers that were spread by mosquito bites, and they never had an inkling that what was happening; they blamed the climate, or the bad air of swampy areas, for the disease that became known as bad air," Gibney writes.
Eventually the Danes, who owned the island, figured out that mosquitoes spread such disease as yellow fever, dengue and malaria, but Gibney writes that they weren't especially interested in devoting resources to solve the problem. It wasn't until a 1932 malaria epidemic that Dr. Viggo Christensen visited all St. John's settlements to treat all patients with symptoms. On St. Thomas, Dr. Knud Knud-Hansen put every case in the hospital.
Gibney writes that it wasn't until Gov. Paul M. Pearson ordered wetlands drained and filled that malaria was eradicated from the Virgin Islands.
"St. John – Life in Five Quarters" also includes chapters on some of the early white settlers to the island – the Boulon and Gibney families, as well as Carl Emanuel Francis and others.
The Historical Society often has hikes to various historical locations around the island. The book also includes writings on some of those hikes to places like Mary's Point, the trail from Hermitage to Brown Bay and Estate Misgunst.
And Caneel Bay Estate before Laurance Rockefeller is included in the recollections and first hand accounts chapter.
People can pre-purchase "St. John – Life in Five Quarters," by calling Swank at 776-6694. Information on purchasing the book will soon be available on the Historical Society's website at www.stjohnhistoricalsociety.org.