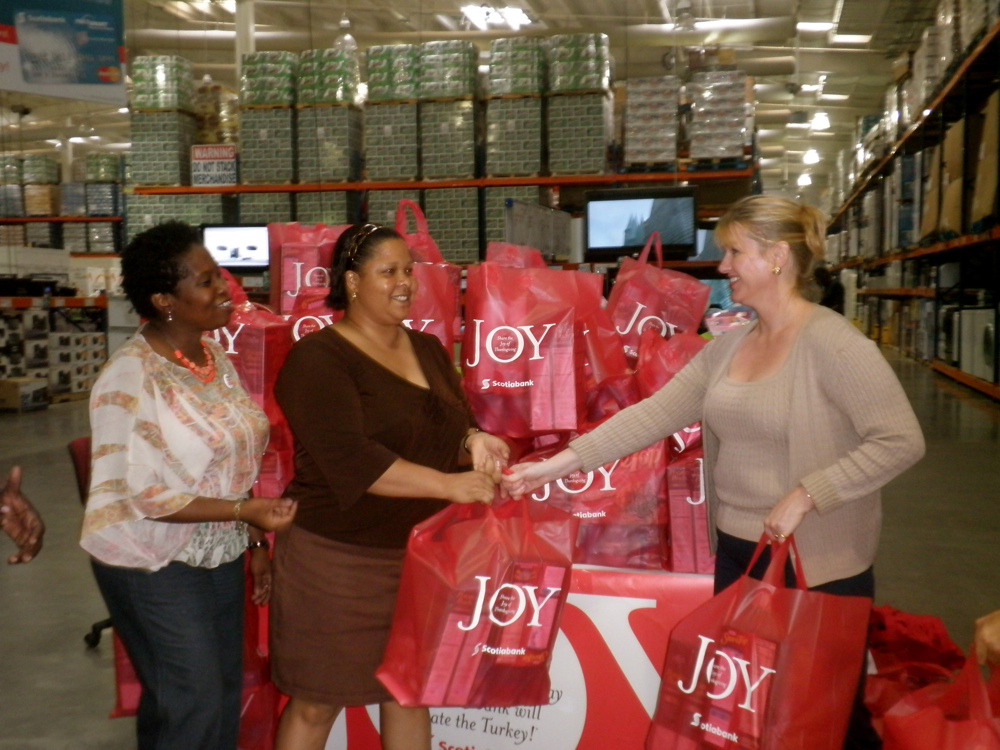 It will be a joyous Thanksgiving for many families thanks to the generosity of Scotiabank and shoppers at both Cost-U-Less and PriceSmart.
On Wednesday afternoon, Scotiabank marketing manager Andrew Kresch and Kelly Morgan, Scotiabank's senior sales leader, were on hand at Cost-U-Less (and then PriceSmart) to give bags full of Thanksgiving dinner items, along with turkeys, to the Family Resource Center and Catholic Charities for distribution to families in need.
For the last week, Cost-U-Less supervisor Janice Winston has enthusiastically welcomed customers with an outstretched hand and the following greeting, "20 dollars, please."
Winston was working to raise funds for Scotiabank's "Share the Joy of Thanksgiving," a program created to help families in need have a healthy holiday meal.
Both Cost-U-Less and PriceSmart asked shoppers to donate $20. Scotiabank provided festive red bags, which employees at PriceSmart filled with non-perishable items, such as instant potatoes and packaged stuffing.
Cost-U-Less and PriceSmart shoppers donated 31 and 33 bags, respectively, while Scotiabank donated 10 turkeys. The bags and turkeys were divided evenly between the two organizations.
Alvin Henley Sr. of Catholic Charities said, "It's a blessing that Scotiabank is doing this to provide food for those less fortunate." Catholic Charities currently has 12 men, 13 women, and five children housed at Bethlehem House. The food will be distributed among residents and any extra will be used for Bethlehem House's Thanksgiving dinner preparation.
Family Resource shelter manager Anya Stuart and executive director Vivian St. Juste were overjoyed at receiving the bags of food. St. Juste asked the center's three counselors to identify 10 families each who were in need of Thanksgiving food items. St. Juste said, "There are always families in need. The counselors were so excited."
Scotiabank's "Share the Joy of Thanksgiving" program was also held on St. Croix in collaboration with Cost-U-Less. Approximately 100 bags were donated on St. Croix, along with another 10 turkeys from Scotiabank, with donated items going to the Women's Coalition and Lutheran Social Services.